Comedy Video | Broda Shaggi Cursed Trouser
Broda Shaggi: Samuel Terry aka Broda Shaggi has released a new comedy video titled; "Broda Shaggi Cursed Trouser". This is video is another laughing galore. Comedy Video | Broda Shaggi Cursed Trouser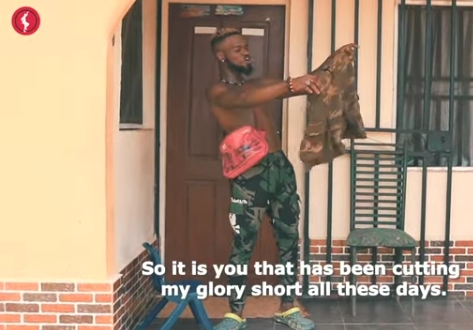 In the comedy video, Shaggi went to meet Baba Jangola, the same herbalist who made "E choke" juju that never worked for Broda Shaggi.
He still went to meet the Baba for another charm. But not for girls this time around. Shaggi wanted to be richer than Otedola. Baba Jangola, the native doctor with "attitude problem said he made juju for Otedola that made him rich.
Shaggi went to his shrine for the charms. What transpired in the shrine from the beginning to the end will make you laugh until you drop your phone on the ground.
Broda Shaggi finally changed his short Camo. Baba gave him new trousers and told him his billions are in the trouser.



Find out what happened in the video. The rest story is a catastrophe join with Shaggi's madness.
WATCH OTHER COMEDY VIDEOS BY BRODA SHAGGI
E choke | E Shock Me | Broda Shaggi | Officer Woos
You need to see these two comedy videos by Broda Shaggi. The first is titled E choke and the second E Shock me.
In this second video, Broda Shaggi featured Officer Woos. If you are current, you should know the trending slang in Nigeria. E choke is one of them.
Watch the latest comedy skit by Broda Shaggi; "E choke"
Broda Shaggi has released the latest comedy video titled "E choke.
UPDATE:
The Nigeria popular comedian Samuel Perry has released yet another funny comedy titled " E shock me" featuring Officer Woos.