Nothing will make Reno apologise. Not when he thinks he was right and not when he has many supporters at his back. But because a man of God is involved, I think he should learn from Daddy Freeze and apologize.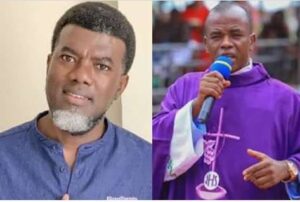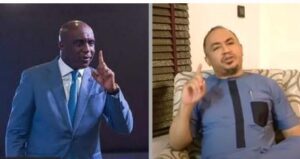 The words battle between Daddy Freeze and Bishop Oyedepo is gradually calming down. Nothing has quelled this tension more than the open apology rendered by Daddy Freeze to the popular preacher of the gospel.
Am just wondering if we are not leaving something out. Yes, we are missing something. Fr. Mbaka was also heavily criticised by the popular social media personality, Reno Omokri.
Bishop David Oyedepo preached a sermon on Christian Marriage from the women angle. He listed what should be the roles of a Christian wife in her matrimonial home.
Daddy Freeze, in his understanding and definition of what marriage should be; saw many things wrong with the teaching and went on air to lambast and criticized the highly revered man of God.
I will always say that Freeze's criticism on the teaching was not counted as an offence; it was his manner of approach to the matter.
He called Bishop Oyedepo names; "The Bare-headed preacher, male chauvinist, etc". This is actually called attack to the man in the debate. Instead of attacking the topic on the hand, Freeze chose to attack the personality of the preacher.
This attracted so many curses and the outpouring of insults from people and most especially from two popular gospel preachers; Pastor David Ibiyieomie and Pastor Paul Enenche.
It was also in the same week that Reno Omokri criticises the popular Enugu based Roman Catholic Priest, Rev'd Fr. Ejike Mbaka.
The Rev'd Fr. gave prophesy about BBNaija eviction and spoke against the unruly behaviour of one of the female housemates whom he said would be the next on the eviction nomination list. Just as he had prophesied, it came into fulfilment immediately.
Reno Omokri took to the social media to criticise Fr. Mbaka. He called his prophesy a forecast, irrelevant and frivolity.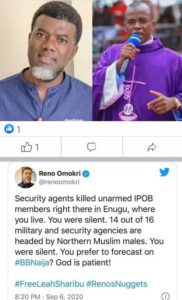 Daddy Freeze has made an open apology to Bishop Oyedepo. Shouldn't Reno Apologise to Mbaka too? After all, both men are ordained-men of God.