10 Best Courses to Study in Nigeria in 2021 with a higher chance of employment
There are so many courses one can study in Nigeria Higher Institutions. When you come to a typical University in Nigeria, it is structured in a way that every course falls into a faculty. For example, in some universities, Law, Mass Communication, Theather Art fall into the Faculty of Arts and Humanity. here are the 10 Best Courses to Study in Nigeria in 2021 and stand a higher chance of employment.
Here is the list of the popular courses students study in the Nigeria tertiary Institutions. Some of these courses are rated higher and valued more than others. But that was then. As things stand today in this country, an online comedian and a programmer are earning fortunes more than a  medical consultant in the hospital.
Medicine and Surgery
Pharmacy
 All Engineering Courses
 Nursing
 Architecture
 Economics
Bio-chemistry
 Accounting
Mass Communication
Entrepreneurship
Estate Management
Geology
Mathematics
Law
Marketing
Fishery and Aquatic
 Microbiology
 Political Science
English Language
 Business Administration
TRENDING STORIES RIGHT NOW:
Origin and History of Rag Day Activity in Nigeria Tertiary Institutions
10 easy ways to leave or to travel out of Nigeria to abroad in 2021.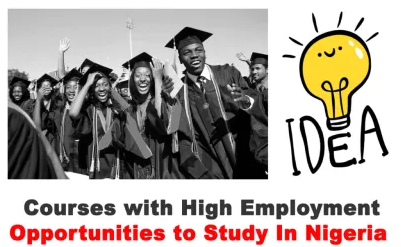 Course research is one of the most important things to do before applying to study in any university. In fact, it is the most important.
According to research conducted in 2020, 27.1% of Nigerians are unemployed and graduates take a bigger serving in the percentage. This is to tell you why choosing the right course to study is very important. Not only that, choosing a course that will put food on your table.
To me, not choosing the right course to study is one of the reasons for the unemployment among graduates. As the title of this article reads "10 Best courses to study in Nigeria in 2021 for employment opportunity" you might be thinking, are there bad or even useless courses to study in Nigeria?
The answer is yes! Why did I call them bad? That I tagged them bad courses does not necessarily mean they are bad. They are not worth studying in Nigeria because of some reasons I will tell you later in this article.
If you just finished writing your WAEC exam and you are searching for the Best courses to study at Nigeria University, pay attention here.  As a student in Nigeria, here are few facts to consider before choosing a course to study at the university.
10 Best Courses to Study in Nigeria in 2021 with a higher employment Opportunity
After choosing any of the best courses we are going to mention later, you must also consider these 3 factors about the choice of your University:
Best University to Study the Course
Don't be fooled by any name University is bearing. There are Universities or polytechnics known for doing well in a particular course than others.
For example, if you want to study Mass Communication and Polytechnic is your choice, you should consider Federal Polytechnic, Oko Anambra State. The same thing is applicable in other Institutions and other courses.
Now you have chosen the course, the next thing to consider is the university to study the course you choose. Many people make mistakes here. Choosing a course is one thing but getting a good university that teaches the course well is another.
You have to research and find out the top universities teaching the course you want to study and apply for it. This is just to avoid wasting your years in the university.
Just imagine wanting to study medicine and applying for a school that does not have facilities for practice, what then are you doing if not wasting your time.
School Fees Of The School
Can you study at a university where you cannot afford it? No right? This is the reason why this is one of the most vital considerations to make before applying for a university.
How is the School Certificate Rated?
Are you surprised to see this? This is one of the important things to consider. In case you don't know, school certificate has value and some have value than the other.
A good example of this is our general belief that a Certificate from a Federal university has more value than that from a state university. Other facts to consider include;
School calendar (Is the school slow or fast? do they usually go on strike?)
Availability of School Facilities
Location of the school
School Moral(Are the students in the school well behaved? are there rumors of cultism about the school)
If I am to start mentioning facts to consider it might be very long and boring. So, we will be stopping at the ones I already mentioned.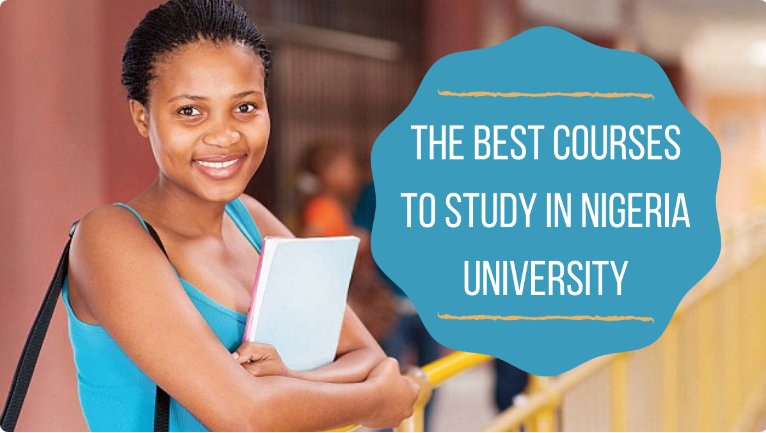 10 Best Courses to Study in Nigeria in 2021 with a higher chance of employment
1. Medicine and Surgery:
This is one the most sort after courses in Nigeria. One good thing about medicine and surgery is that as a graduate you won't have to look for a job because a job will be waiting for you immediately after you graduate. That is the reason why is the most registered course.
But the thing with medicine is that it is very competitive and requires very high grades to get. Even as a medicine student, if you get a bad result you might be stepped down to repeat the entire level, or in most cases, you might be dropped out of the course. But believe me, if you are an intelligent and hardworking student, this is the best course for you.
2. Pharmacy
This is the next course I will highly recommend after medicine. The good thing about pharmacy is that you can be self-employed after graduation.
You can decide to open your own pharmacy shop or open your own pharmaceutical company if you have the funds and license. The best university to study this course is UNN (University of Nigeria Nsukka) because you would become a Doctor of pharmacy immediately after you graduate.
3. All Engineering Courses
Engineering courses cannot be written off when it comes to the best courses to study in Nigeria. It is one of the marketable course here in Nigeria that is why the number of students that register for it every year keeps increasing.
Most engineering courses like Electrical engineering, civil engineering, etc, do not really require you to work under a company or firm. You just need a little bit of experience and you are out there running your own business as the boss.
Computer Science– This course is highly marketable. In fact, the top five richest men in the world are all products of this course.
I will say it every day, there is money in tech and the sooner Nigerians start welcoming the idea to go deep into tech the better. I once paid N90, 000 ($200) to an undergraduate of Computer Science who programmed an App for me.
As a computer scientist, you can work as a programmer, Data analyst, web developer, software tester, product manager, Network architect, software engineer, etc. The good thing about this course is that some of the jobs require you work from the comfort of your home without stressing yourself preparing for work every morning.
10 Best Courses to Study in Nigeria in 2021 with a higher chance of employment
4. Nursing
I know when you hear nursing the first thing that will come to your mind is, this course is for girls only. But believe me, that is not really true.
Although there are the majority of female nurses than males in Nigeria in recent days. The mentality that nursing is only for females is gradually changing. Men now enroll in nursing school and get jobs after graduation.
5. Architecture / Estate Management
Architecture– This is another course that can make you self-employed after graduation. As an architect, your work is to draw building plans and designs. An architect is the heart of a building because without a building plan there is no house. This is to show you that the service of an architect will always be needed.
Estate Management– Estate Management is a highly marketable course both in Nigeria and abroad. You can help people or companies manage their properties and get paid.
As an estate manager, you can work as a building surveyor, Estate Agent, Land Valuer. You can also work as a Project manager, property manager, town planner, and the rest of them which I can't mention right now.
10 Best Courses to Study in Nigeria in 2021 with a higher chance of employment
6. Bio-Chemistry
If you have good knowledge of chemistry, I will advise you to go for this course because it is the most sort after. As a biochemist job opportunities for you include; Pharmacologist, Oil and gas scientist, Microbiologist, Chemical engineering, Agricultural scientist, cosmetics developer, etc.
In fact, the list is endless. Places you can work as a biochemist include; NAFDAC, Hospitals, Pharmacy, Medical laboratory, Raw material industry, etc.
7. Accounting
Accounting is another course I can recommend. It is a sought-after course. Parents are focusing on getting their children to study medical-related courses while big companies are in need of Accountants.
With the sound of the name, you already know it's something related to money. So, the job opportunity includes, working for the government, Working for banks and other financial institutions or you can also be a self-employed accountant.
Right now in Nigeria, Schools are looking for Accountants. Churches and Individuals are looking for Accountants to be in charge of their financial transactions. I am yet to see an Accountant who is looking for a job.
8. Entrepreneurship
This course is still yet to be introduced in most Universities but somehow it made it to the list of the best courses to study in Nigeria. Entrepreneurship is purely business. It also includes learning Fashion and Designs, Beauticians, Hairdressers, and Horticulture.
Do you want to learn steps in Starting Flower Planting Business in Nigeria (Horticulture)? Read it here.
With an Entrepreneurship degree, you can work as a business consultant, teacher, business reporter, sales manager, financial advisor, marketing manager, etc.
9. Mathematics
If you study mathematics, there is this respect that people will be according to you. Many people will be interested to read this particular line because of the name we mentioned. We are aware of the fact that not many people like maths.
But the good news is that companies are employing mathematicians right now. Owing to the fact that not many people like maths, the job opportunity is less competitive when there is one. Studying mathematics will or must not land you as a teacher in a classroom.
Here are some good-paying jobs you can do as a graduate in mathematics; Statistician, Actuary, Financial Analyst, Computer programmer, Data or Research analyst, lecturer in mathematics, etc. If worst comes to worst, you will make money from students writing their internal exams on Mathematics.
10. Law
I call this course the "Medical Course of Arts students". Why? This is because as medicine is the most sort after course to Science, Law is to the Arts students.
As a lawyer, you can decide to have your own Law firm and be your own boss. You can also work as a family lawyer or work for companies.
Though it is good to be a good lawyer the interesting thing about being a lawyer is that whether you win a case or not, you will still get paid.
Conclusion – 10 Best Courses to Study in Nigeria in 2021 with a higher chance of employment
I don't really have much to say in this conclusion because I have covered everything in the article so I will rather give advice. We have done justice on "10 Best Courses to Study in Nigeria in 2021 with a higher chance of employment".
But know this, whichever course you choose, it's your hard work and determination that will help bring the best out of it. Best of luck.