Prof Ndubisi Samuel Killed by Assassins at Portharcourt Expressway Enugu
The identity of the man who was shot today in Enugu by Unknown assassins/ gunmen along the Portharcourt expressway by Centenary City has been revealed. According to the report, he was on his way to an important assignment before his assailants trailed him. Prof Ndubisi Samuel Killed by Assassins at Portharcourt Expressway Enugu.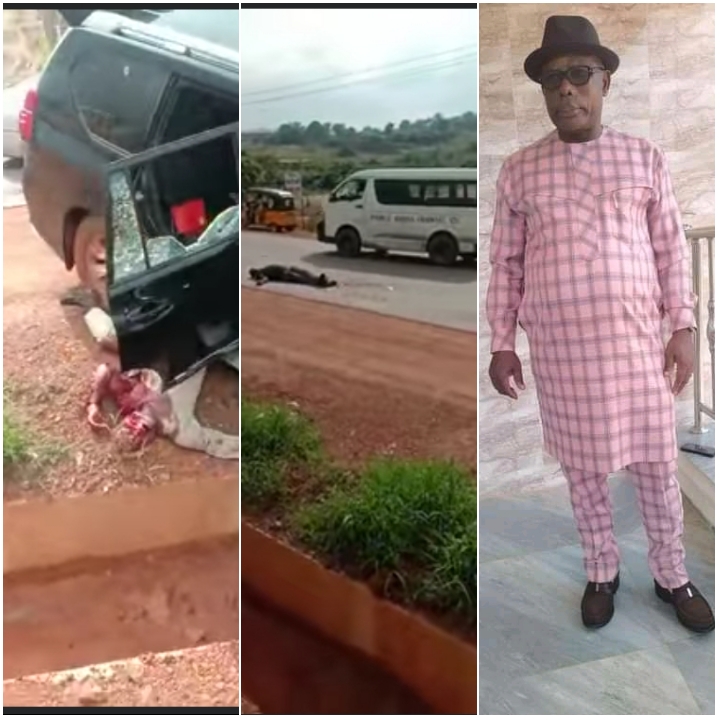 He was in the company of his mobile Police escort when he was attacked. He was shot several times in the head. His Police escort took to his heel but he was shot and killed at the spot.
Prof. Samuel Ndubisi was riding on his Prado Jeep with a Government number, traveling with his mobile Police Escort before the incident occurred. According to the video and the voice-over of the eyewitness, the gruesome murder happened at Portharcourt Expressway, close to  Centenary city, Enugu town.
 Watch the Video Here
Two Times Unknown Gunmen Struck Again in Enugu; Killed Government Official and his Police Escort.
Meanwhile, the identity of the man who was killed along with his mobile Police Escort has been revealed. He was identified as Prof. Samuel Ndubisi, a former dean, faculty of Engineering, Enugu State University of Technology (ESUT).
Recently, he was said to head SEDI, DG, Scientific Equipment Development Institute (SEDI), Enugu. A parastatal in charge of Scientific facilities and equipment.
Recall that it is barely one month when unknown gunmen struck in Enugu town, Killing a former Chief Judge along Ebeano Tunnel, Enugu.
Suspected Gunmen at Ebeano Tunnel Enugu. Happening Now: Gunmen Shot Man at Ebeano Tunnel Axis Enugu. Watch video of Gunmen who Shot Man who Rides in a Jeep along Ebeano Tunnel Axis.
Suspected Gunmen Shot Man Along Traffic/Ebeano Tunnel Enugu. A disturbing live video is circulating on social media about a man who was attacked by gunmen along Ebeano Tunnel in Enugu just an hour ago. Video shows footage of Suspected Gunmen as they attacked a man traveling with a Jeep.
From the video, it appeared he was in his Jeep before he was attacked. He was seen dragged down from the jeep and shot immediately. His attackers appeared to lay ambush or were pursuing him with a vehicle.
The yet-to-be-identified man was shot at a close range at his back by the suspected gunmen before zooming off with the Jeep. According to an eye-witnessed who was said to be around the scene, the man was immediately rushed to the hospital.
However, he was confirmed dead on arrival. People who were around the crime scene photographed the victim when he fell on the ground. This is the man who was shot dead by the suspected unknown gunmen.
WATCH VIDEO