"Erigo ya" Reaction as Young Girl Runs Mad this Morning in Enugu VIDEO
Social media users have reacted to the video circulating this Monday morning, 5th July 2021 about a young girl who ran mad at one of the popular Bus stops in Enugu State. "Erigo ya" Reaction as Young Girl Runs Mad this Morning in Enugu VIDEO.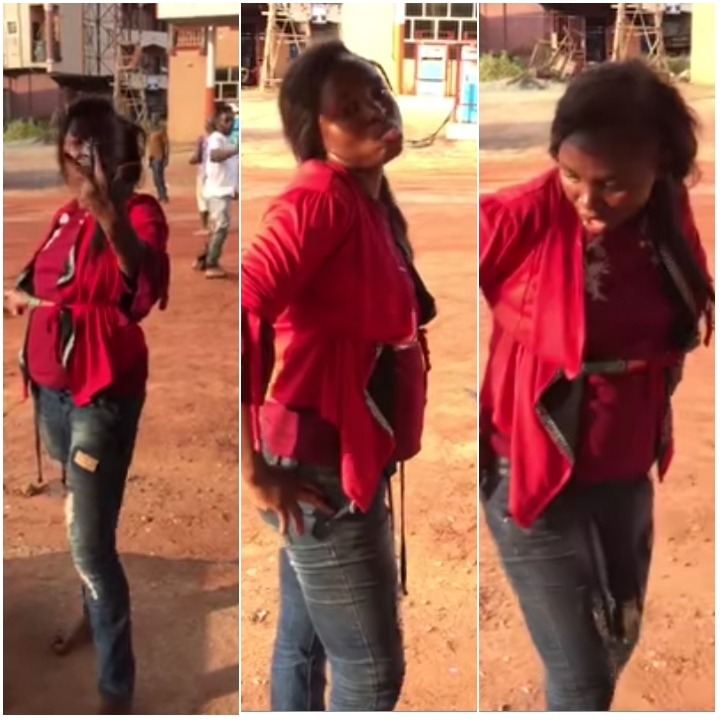 The girl was spotted at Agbacha roundout, Portharcourt Express, Akegbe Ugwu, Enugu State. An eyewitness said she was about falling into a moving trailer before people rescued her.
Peoples' reactions have shown that the madness could be the handiwork of the Yahoo plus boys who are recently on the outlook for young gilrs to be used for money rituals. According to the video, the girl was seen this morning at the Bus stop, displaying like a mad woman.
From her look, she just ran mad. Her clothes were still kempt and new. She still had new hair do. And from indications, she was coming from a mini travel with just few cloths and a hand bag.



A concerned individual saw her this morning and captured her with his video. He is circulating it on the social media with the hope that the girl's relatives will see it and locate her.
Recently, ritual killings, kidnappings and yahoo plus have been on the increase in the country. Enugu State has seen and recorded many of such reports recently.
"Erigo ya" Reaction as Young Girl Runs Mad this Morning in Enugu VIDEO
Young ladies should be careful these days and watch out how they hook up with the opposite sex, especially strangers. One thing significant about this yahoo rituals, killings and sudden madness these days is that it is mostly discovered on Monday morning.
It is possible that the evils are being perpetuated during the weekend, since that is the time girls are invited over for the weekend. Please, share this post.
You may like to Read about what happened to the Yahoo boy who poisoned the meat he brought for his birthday and killed 50 friends who attended the birthday.
Killers Dumped Body of Young Girl in the Gutter in Enugu
Ritual Killers Dumped Body of Young Girl in the Gutter in Enugu, be warned. A yet-to-be-identified dead body of a young girl was dumped in the gutter at Presidential road along SPAR Shopping Mall and Root Restaurant in Enugu.
She was Dumped with her undercover Removed
Her lifeless body was found early morning today by passers-by. Nature in which she was found showed her life was taken. She was either yacked to death or raped to death.
She was with a torn blouse and no 'chain' cover. Her trouser or skirt was nowhere to be found around the vicinity.
Looking at the corpse of the girl, your mind will be flooded with many thoughts. It is either she was invited to the house by her killer and one thing led to another which led to her death. The killer had no option than to bring her corpse and dumped it on the road.
People also suspect ritual killers. This is because the girl's eyes were opened. It showed she was strangled to death.
A social media user commented when the first post of the girl was made by Coalcity Connect. According to her, she opined that sexual violence and assault could be parts of the girl's death.
Judging from the picture, there could be a fact from what she said. The girls' blouse was torn in the hand. This showed that there was a struggle between her and her killer.
Her undercover were stripped off. This also showed sexual struggle was involved before she was yacked to death.
Whatever be the case, we hope her killer will not go scotfree. We call on the Enugu State government to beef up the security of the State. The life and property of the Enugu residents are no longer safe.
Ritual killings and maiming are now the other of the day in the Enugu metropolis.
On the other news, a resident of a popular area in Enugu town narrated her experience concerning the activities of kidnappers and ritual killers in her area. She took to a popular news site to share her story.
Read her own version of ritual killings in Enugu.
Ritual Killers Dumped Body of Young Girl in the Gutter in Enugu
In another development, a bus stop at GRA Enugu has been now identified as another dead zone. Kidnappers and ritualists are said to lurk around the Bus Stop, looking for unsuspecting victims.
"Avoid this Court Bus-stop in GRA, Enugu at Night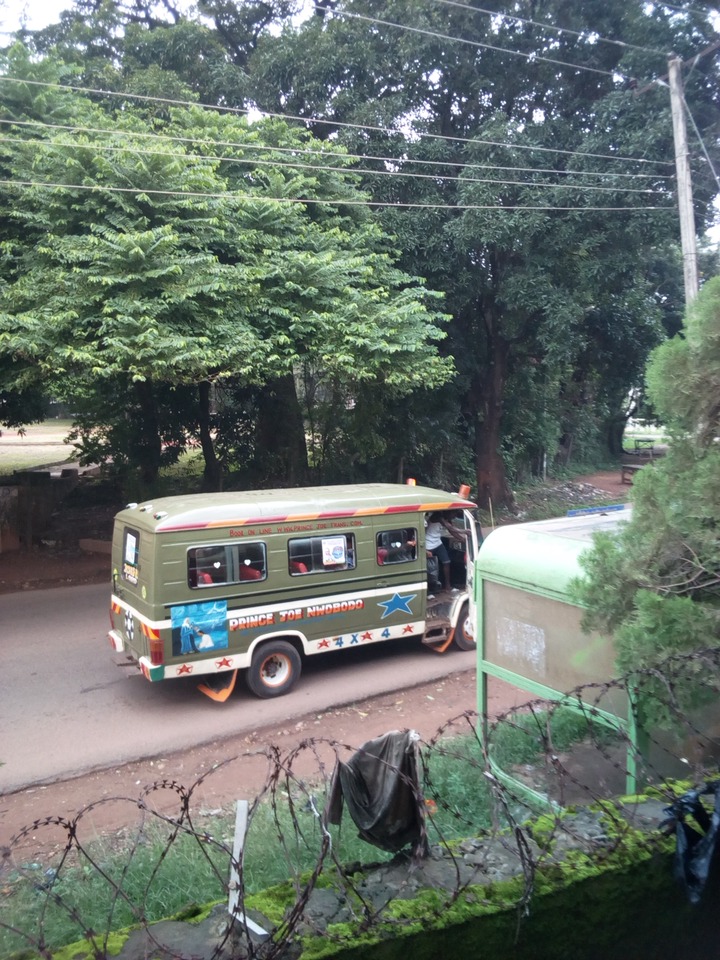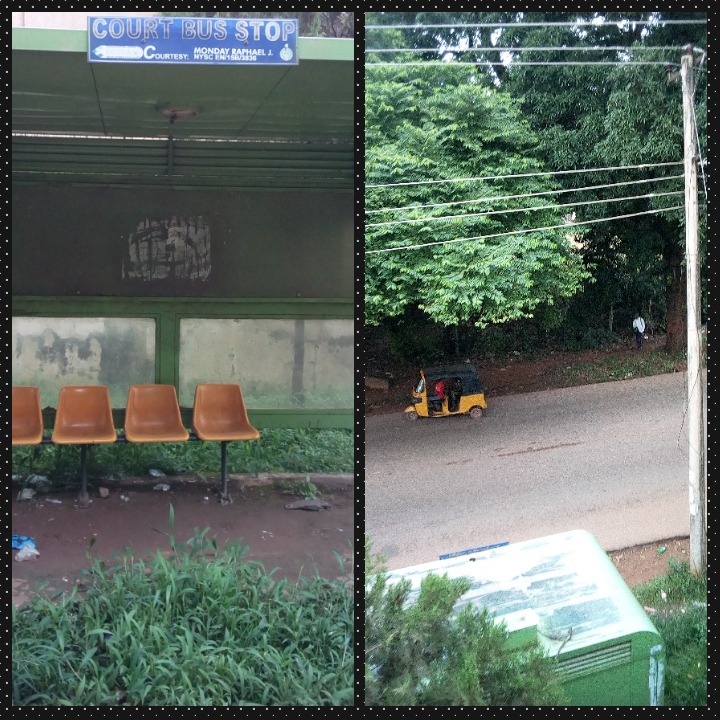 *Image credit: Author
I am moved to write this post because of what happened in this Bus stop on Monday this week, being 20th. This is one of the bus stops in the G.R.A, located along with Secretariat, Radio Nigeria, Works, and New Market axis. It has become a danger zone at night.
Kidnappers, ritual killers, and thieves move around this Bus stop at night in trails for unsuspecting passersby. Their victims are mainly women who walk in pairs or single.
There is no specific time at night for their operation. As long as it is night and dark, they strike.
The nature of this location has given them an upper hand in perpetuating their evils. The area is mainly offices, government offices. The workers normally close in the evening and go to their various homes.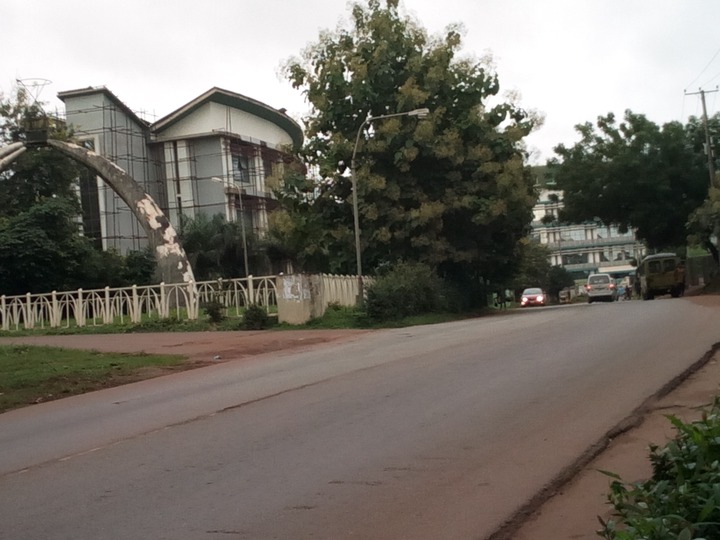 *Image credit: Author
Like I said earlier, this area is always lonely and unnecessarily quiet at night because it is not a residential area. If one is coming from Subway towards this place, one can count only three or four residential houses. Other buildings are offices and shops.
This zone bubbles in the daytime and becomes a burial ground at night, except for few vehicles that move occasionally. The movements of vehicles reduce as night draws deeper.
Again, there is no street light in the place. No, there are street lights but none along this bus stop is working. The grown trees worsened the matter at night by making the area darker, thereby shielding the criminals.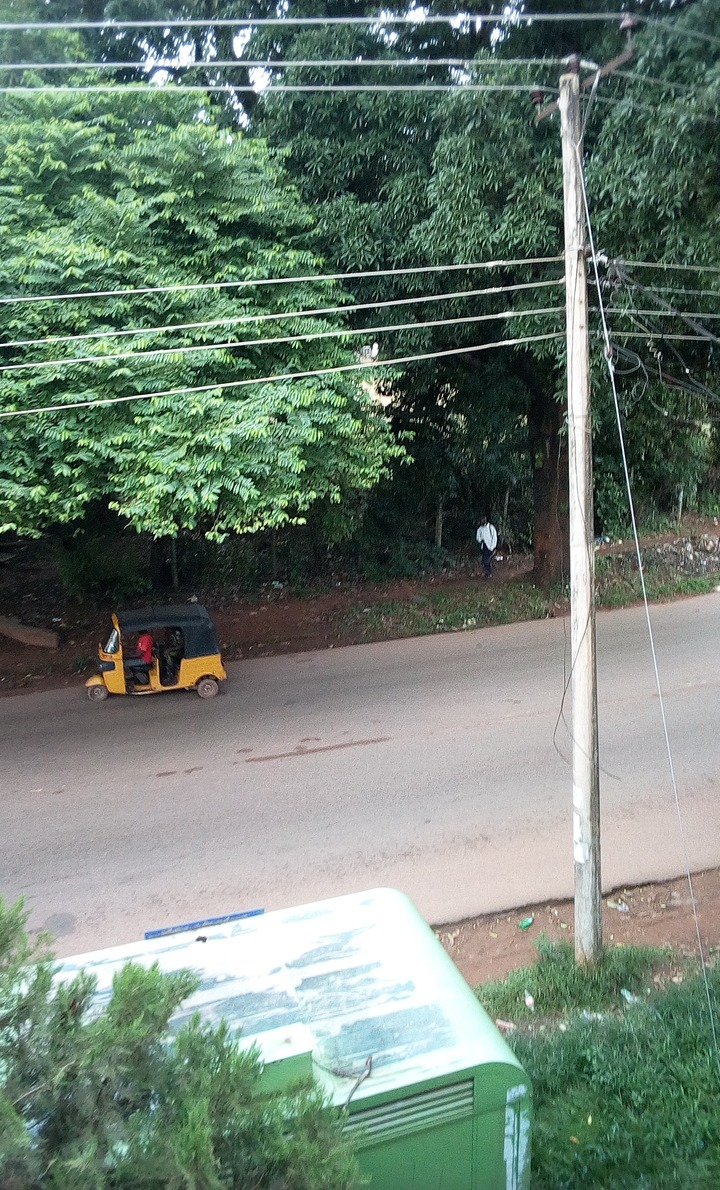 There are nights we hear distress cries of passers-by who ran and called for help; and sounds of buses at the victims' heel. The struggles would continue but at some points, the voice would no longer be heard. Only God in heaven knew the fate of those people.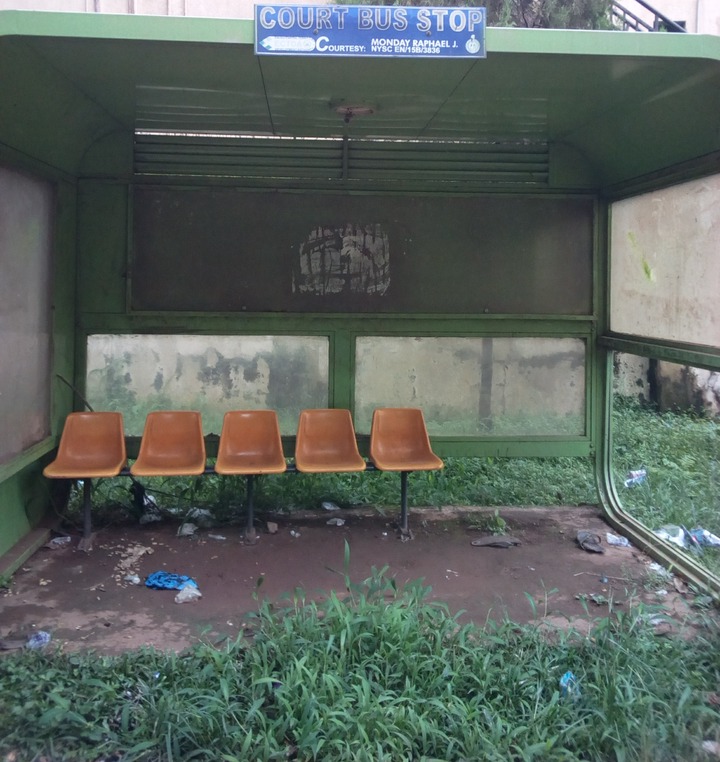 *Image credit: Njide
On the 26th of Dec, 2019, at about 7:45 pm, we heard such a cry again. It was a voice of a woman. You might assume that it was too early at this time for the ritual killers and the kidnappers to strike. They came out this early because it was Christmas eve. The road was deserted and lonely because many people had gone home for Christmas. This was what gave them the morale to operate at such a time.
The woman's case was one of those cases they call a miracle. Our security guard was drunk that night and forgot to lock the gate.
We didn't know what happened but we saw the woman who was screaming; "ritual killers! Help! Kidnappers! Help!"; rolled into our compound. We saw her fell into our compound.
She hit our gate forcefully with her body and it gave way. The hefty men who were struggling with her to drag her into the bus ran back into the bus and zoomed off.
The victim was lucky to escape but she lost her big toe. The artificial nails she fixed for Christmas were badly hit on the stones as she fought for her life.
We haven't heard much of the distress cries in the bus stop these last months due to the lock-down and curfew. Until, Monday, 20th July, my neighbors whose names were Onyinye and Nwakaego became the victims.
They were coming back from their shop at night. It was around a few minutes after nine. According to them, they noticed that a bus was trailing them behind. They increased their pace and the driver increased the bus speed.
They began to run. Four men alighted from the bus and pursued them. They ran to a gate, a school along with the bus stop, and hit violently at the gate, crying and screaming at the same time.
The men beat them and struggled to drag them inside the bus but the Security guard opened the gate and the girls fell in. The boys jumped back inside the bus and zoomed off.
This should not continue. The criminals should not be allowed to continue having their field day. The lives of people are in danger in this area. I call on the Enugu State government to mount street lights in this zone. I call on the Governor to mount a security checkpoint in this zone.
Meanwhile, it appears this message got to the appropriate authority. I passed through this same court Bus stop recently and observed few security measures being put in place.
The street lights have been repaired and they are always on. I also noticed that Police do mount checkpoints at the area sometimes at night.
Currently, the government has ordered to have all the big trees cut down. These trees gave ritual killers shade as they made the place darker at night.
I hope good security measures will be put in order places in Enugu so that ritual killings and kidnappings will be a thing of the past.
We say no to ritual killings. We say no to kidnapping.