Typical Rag Day Activity in Nigerian Higher Institution
If you are wondering what a student week looks like in Nigerian Tertiary Institution, here is one. A Typical Rag Day Activity in Nigerian Higher Institution in 2021.
A yet-to-be-identified student of Federal Polytechnic Oko has pulled the crowd on the student rag day due to the manner he has chosen to celebrate his. His dressing drew so much attention from passers-by who had to stop by to watch him display.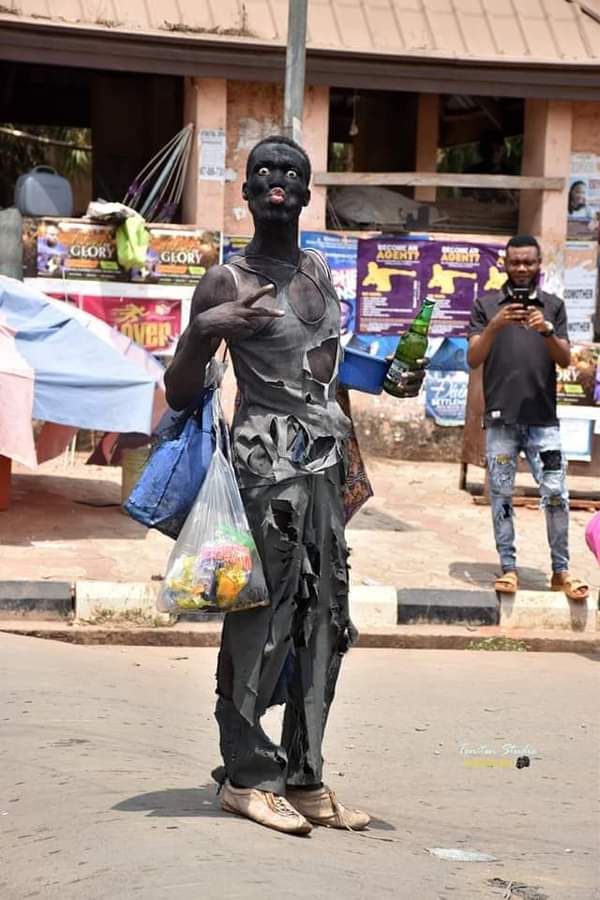 Federal Polytechnic Oko in Anambra State holds her Students Union's week this week. The students' week was capped today with the Rag Day activity. The young man in the picture was out in the street to participate in the activity but he stole the show with all his displays.



He dressed and displayed like a lunatic and his acting was just perfect. He was given the 2021 best student in rag day celebration. One of the social media users shared his photos and said;
"It's FPO Rag Day! Meet the best Rag Day student 2021. Oko Poly na Cruise.
Joke apart this guy don mad before I swear."
Rag Day
Rag Day is one of the activities in the Students Union's week in the higher institutions. It is carried out once every year during students' week. It is not only done in the Nigerian Higher Institutions, it is a universal activity.
The Origin and History of Rag Day Activity in Nigeria Tertiary Institutions was traced to the University of Pretoria in South Africa in far back 1925. It is done for charity purposes and is called "The Procession". In Nigeria, it is the same thing but not with a similar purpose.
Depending on the school settings and system, students' week begins on Monday through Friday. Series of students' outdoor and indoor activities are held and among them are Campfire night, students' Union elections, Rag Day, etc. The Students' Union's week is usually capped on Friday with Rag Day activity.
Students are allowed to dress to depict time, events, memories, and culture. Most rampant in the dressing are old schools and clowns' attires.
Students put on their primary or secondary school uniforms and act like Nursery, Primary, or secondary school children. Some will choose to mimic the wicked headmaster or the old school headmaster. Some may also choose to act like the old school teacher known as Madam Koi-koi.



All of these are for fun. The students will come into the campus to showcase their different funny-looking dressings and take photographs with their friends. After that, they will go into the streets to beg for arms from people who will be amused by their funny-looking dressings.
Students make money from their outings. The money made from it is sometimes enough to cover the cost of handouts for a semester or feeding cost.
Read also: