Donald Trump has just made an important announcement which is set to benefit the Americans and the rest of the world. This is not one of his controversial claims. This important announcement has been confirmed by the REUTERS in their breaking news. It is about putting an end to Covid-19 which has been threatening the lives of all people.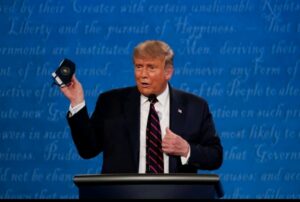 Donald Trump has promised that soon the market will be high and running again because the long-awaited Covid-19 vaccine is 90% ready and effective. He may have only but 2 months run the office of the Presidency in America, that is if he concedes or if the court declares so.
He promises that the vaccine will be ready within a short period. This is good news for America and to the world, especially the third world countries. Donald Trump has done it again.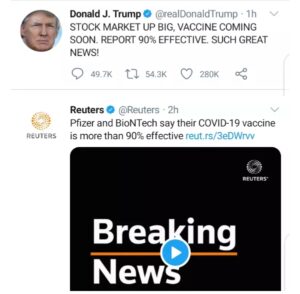 The outbreak of Covid-19 and the manner for which it was handled on the onset is one of the beasts fighting Donald Trump in the second term election. Many people were offended by the manner in which he handled the pandemic. Many people lost their lives as a result of carelessness during the first outbreak.
But now, Trump is set to right all the wrongs. H is set to put smiles again on the Americans and makes life returns to normalcy again.