Wonders will not cease to occur. It is not about SARS now, it is about the church leaders. This post is about the video that has been causing a stir on social media about Roman Catholic church members who revolted against their parish priest and order him to leave the parish.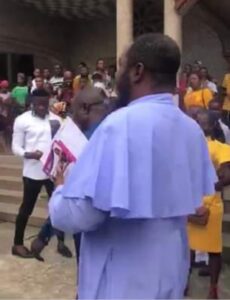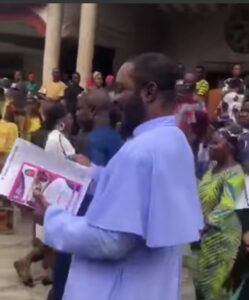 From the video, the members of the church were seen outside the church with a few who carried placards. They were chanting;
"Enough is enough, Puoro anyi an church! Enough is enough, Puoro anyi na church!" which means, Rev. Fr., go away from our church. It was so serious that one was heard laying a curse on the Rev Fr. when he tried to bless them with his hands. The voice said; "ara gbagbuo gi" meaning, let madness come upon you.
One of the church's Parochial members was seen escorting the Rev. Fr. outside the church premise. We have not yet ascertained the location o this church at the time of filing this report. But one thing is sure, it is one of the churches in Igbo speaking states in Nigeria.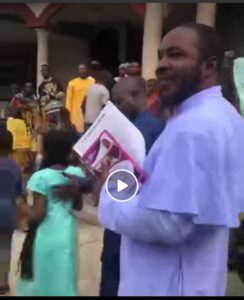 It is a pity. Revolution has come into the house of God. But I least expected it to come from the Roman Catholic faithful. This is because they have high regard and respect for their priests, unlike other denominations.  We are yet to hear the full offense of the said Parish Priest that would warrant this kind of humiliation from the members.
He must have bitten them where it pained them most. More details coming soon………