The girl you see in this photo was found roaming at Sango Texaco Junction since yesterday. She couldn't t identify herself properly as she wasn't coordinating in her conversations. The only word stable in her mouth is her name. She appears mentally unstable.



She kept saying that her name is Uloma. She couldn't say her destination or her State of origin. She doesn't know the name of her parents or siblings. She can't say where she was coming from or where she was going. All she does was pointing in a different direction and nervous.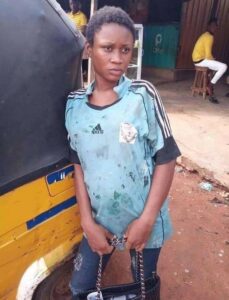 Who impregnated this girl in this condition? Aren't some men wicked? Aren't they like a he-goat that doesn't discriminate? The displaced girl should be around 16 or 15 years. The people around the place have noticed and confirmed she is pregnant. She should be in her early second trimester in her pregnancy. She is dressed in dirty cloth. When I saw the girl, two things came to my mind;
RECOMMENDED FOR YOU
The girl was either mentally stable before she met the condition that dehumanized her and it has not been long she is being that way. My second thought was that she escaped from a baby-making factory, a place where young girls are kept against their wish to give birth for business.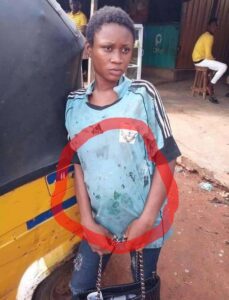 In all these, whoever looks at this little girl and impregnated her in her condition is wicked. Now, she is roaming the street. She can not access medical facilities for her health and that of her unborn child. She doesn't even know where she is. We want her people to locate her. We want her to go back to her people.
Please, share this post and her photo so that her people can read it and know about her location. She is at Sango Texaco Junction.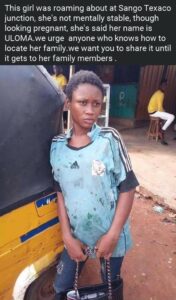 Thanks for agreeing to share and remember to support us by clicking on the "Read Original" at the top"