Should I go ahead and claim his blog to teach other copy and paste bloggers lessons or for mercy sake, and wisdom I should leave it?



Make sure you read everything from the article before commenting. It will guide you to know what to say. If you are a blogger and you are in the business of reaping where you did not sow, make sure you read this so that your efforts will not end just like that.
Plagiarism, which is known as copy and pastes in a common language has been given a prominent position in the blogging business, especially in Africa. It is an act of intellectual theft. It is when someone copies a part or whole part of an idea of someone without proper attribution. That is to say; when you lift what someone else has done whether in writing or drawing without the right to do so and without attributing to the original author.
To bring it down further, when I go to another blogger's site, I highlighted a particular story in which he has written and pasted it on my site without making mention of the original owner. Even when I make mention of the original author, it is still plagiarism. This is because I lifted the whole part of the work.



RECOMMENDED FOR YOU
It is not plagiarism when I see a story title and rewrite it. It is not plagiarism when you see a good line from a writer and you copy it and give attribution to the author.
Plagiarism is a great offense. In fact, it is a criminal offense. If dictated, it can impact so much on the writer's revenue and even lead to the banning of such a site from participating in Adsense. You May Read HOW TO REPORT A BLOG THAT PLAGIARIZES YOUR CONTENTS
Back to my story
I received a message yesterday from Adsense. First, it was a Gmail. It reads thus;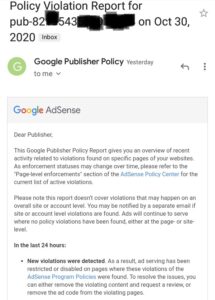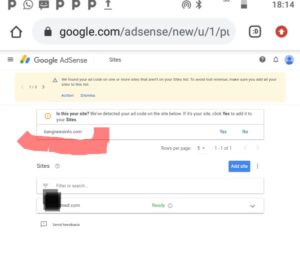 I was perturbed when I was the message. I began to check on all my posts as relating to health and dating, I found non violating the policy. The adverts were intact and running. A few minutes later, I received another notification on my AdSense page. That was when I understood where the problem came from.
A desperate blogger; bangnewsinfo.com has copied my contents verbatim. he copied both the ad codes which there placed on the contents and pasted on his own site. My ads are now running on his own site.
I was sent two notifications.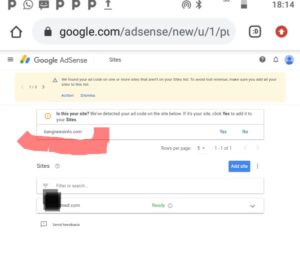 This is one of them. All I need to do is to click yes on this box and this blog will become mine. I will use auto ads to control ads in all his future content. But If I do it, what do I gain? I can't become a thief for vengeance. He's already in trouble with Adsense.



Bloggers, desist from copy and paste. Do not be in haste to make it in blogging. What will be will be. I was a writer with Opera News before owning my own blog. But I have noticed that all the articles I wrote for Opera have been plagiarized by some bloggers. This is why you are called lazy youths. If all you do is copy and paste in your blog, Nwanne, you are a dunce! You copied during your school days.
take your time to read How to Report A blog that plagiarizes my contents, you will see what you are doing to your blog. You will know why Legit and GhGossip will always rank number one every morning on the google page.
Thanks for reading. Remember to support us by clicking on "Read Original" on the top.