Federal Govt Issues Transcorp Power Discharge Certificate. Transcorp Power PLC has been removed from the Bureau of Public Enterprises' (BPE) routine evaluation and monitoring, marking a significant milestone for the power company. The news was celebrated by Vice President Yemi Osinbajo, alongside members of the National Council on Privatization (NCP), the company's chairman and other team members. Speaking at the Presidential Villa in Abuja, Osinbajo praised Transcorp Power for meeting and surpassing the agreed covenants and deliverables outlined in its Post Acquisition Plan (PAP). He also urged other private power companies to follow the example set by Transcorp Power.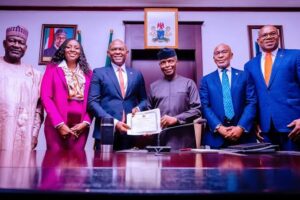 Read Also: Tinubu Pledges To Follow Yar'Adua's Example As President
The company's Chairman, Tony Elumelu, reiterated the firm's commitment to providing Nigerians with access to electricity, adding that the power sector was integral to driving economic growth. Elumelu further noted that Transcorp Power is committed to indigenization, with the power plant being managed and operated entirely by Nigerians. Safety standards are also high, with no incidents recorded since 2013.
Federal Govt Issues Transcorp Power Discharge Certificate
Elumelu thanked the federal government for its support and pledged to do more in the power sector.
The delisting from the BPE's routine evaluation and monitoring process is a testament to Transcorp Power's ability to deliver power efficiently and exceed expectations. It highlights the broader objective of privatization to attract capable private entities that can contribute significantly to Nigeria's power sector. The news serves as a beacon of progress for Nigeria's power sector, demonstrating the potential of private investment to drive efficiency, profitability, and ultimately, improved access to electricity for the Nigerian population.
The power sector is essential for the economic growth of Nigeria. The government recognizes the importance of private investment to achieve its goal of generating and distributing sufficient electricity to the population. With Transcorp Power leading the way in delivering power efficiently and exceeding expectations, the hope is that other private power companies will also step forward and undertake similar transformations, thereby contributing to the nation's power supply and meeting the expectations set forth in their respective post evaluation plans.