Tinubu Pledges To Follow Yar'Adua's Example As President. Bola Tinubu, Nigeria's President-elect, paid tribute to former President Umaru Yar'Adua on the 13th anniversary of his death, pledging to follow in his footsteps. Yar'Adua, who was once Tinubu's friend and political associate, is acknowledged by many Nigerians as one of the country's best leaders ever.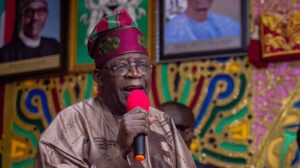 Tinubu described him as a man who showcased an exceptional sense of propriety and selfless service to Nigeria, both as governor of Katsina State (1999 to 2007) and President of Nigeria (2007 to 2010). Tinubu also stated that he would prepare to take the reins of leadership of Nigeria on May 29, determined to follow Yar'Adua's example.
Among Yar'Adua's accomplishments was the establishment of a committee on electoral reforms headed by a former Chief Justice of Nigeria, Justice Muhammadu Uwais, which recommended far-reaching measures to improve the electoral process and environment, strengthen the legal framework, and enhance the independence of the electoral body. The administration accepted over 90% of the recommendations and implemented some of them.
Tinubu Pledges To Follow Yar'Adua's Example As President.
Yar'Adua also came into office with the Seven Point + Two Special Interest issues Agenda for Nigeria aimed at tackling the nation's basic problems, with top priority given to his planned reform of the power and energy sector. He declared a national emergency on energy and power supply, seeking to increase power supply to 10,000 megawatts (mw) by 2011 and 50,000 mw by 2015. The rest of the agenda included infrastructure, food security, wealth creation, transport, land reforms, security, and education.
Read More: Datti-Ahmed Calls on Buhari To Suspend Tinubu's Inauguration
Former President Goodluck Jonathan also paid tribute to Yar'Adua, calling him a "great and selfless leader," while former Vice President Atiku Abubakar described him as a "beacon of humility and integrity." Yar'Adua served as governor of Katsina State from 1999 to 2007 and succeeded President Olusegun Obasanjo on May 29, 2007, but died in 2010 before completing his first term. His deputy, Jonathan, took over as acting President and later became the President.