Worker's Day: Workers Will Enjoy Wages Under My Watch – Tinubu Promises.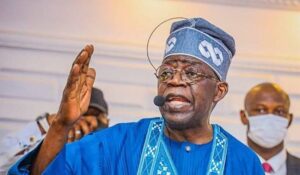 As Nigeria celebrates International Workers' Day, the President-elect, Asiwaju Bola Ahmed Tinubu, has assured workers of better treatment under his administration. Tinubu, in a solidarity message personally signed to workers, pledged to give them more than a minimum wage but a living wage that would ensure a decent life and enable them to provide for their families. He promised to be a dependable ally of the country's workforce, who would fight for social and economic justice for all Nigerians, including workers.
Tinubu, who would assume office on May 29, 2023, urged workers to understand and cooperate with his administration. He also solicited their support and called on them to join hands with his government in fighting poverty, ignorance, disease, disunity, ethnic and religious hate, and all negative forces that threatened the stability and prosperity of the country.
Worker's Day: Workers Will Enjoy Wages Under My Watch – Tinubu Promises 
The President-elect noted that May 1st of every year was a special day in Nigeria's national calendar, commemorating the contributions and sacrifices of workers to the well-being of the country. He acknowledged the critical role the labour movement played in Nigeria's march towards a stronger, united, and prosperous nation, describing the day as a celebration of workers' rights to dignity, decent wages, and decent living.
Tinubu extolled the labour movement's contributions to Nigeria's struggle for independence and restoration of democracy, collaborating with nationalists and pro-democracy leaders to achieve their goals. He commended the Nigerian Labour Congress and its affiliate organizations for partnering with the government to restore democratic governance in 1999 after almost two unbroken decades of military dictatorship.
Read More: Ohanézè Ndiigbo Asks Buhari To Free Kanu Before 29th May
The President-elect's Renewed Hope Agenda for A Better Nigeria spells out his plans for better welfare and working conditions, which he vowed to keep. He called for understanding, cooperation, and hard decisions from all sides, as leadership would require tough and hard decisions to enable workers to live more abundantly. Tinubu promised to fight for the workers, saying their fight would be his fight.