I Didn't Visit Tinubu – Obi Says In an Interview.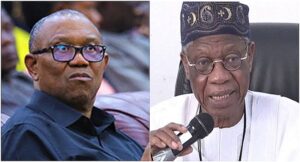 Peter Obi, the Labour Party's presidential candidate during the last general elections, has denied visiting President-elect Bola Tinubu as widely speculated on social media.
Obi stated that the rumours and the accompanying photoshopped pictures were part of opposition moves to derail his objectives. During an interview with Arise TV, Obi maintained that he was committed to the course of justice and ready to pursue the case before the Presidential Election Petition Tribunal to a logical conclusion. He also clarified that he doesn't hold United Kingdom citizenship and that he returned his "unlimited residency permit" to the authorities when he was about to leave the country.
Obi further explained that he was only stopped for a routine immigration check during his recent "arrest" in London, and he was treated with all due respect. He stressed that the internal crisis within the Labour Party was just the "rascality" of paid agents trying to create confusion. The LP standard bearer had earlier stated that the opposition was trying to label him a tribal or religious bigot and even suggested that they would check if he had a lovechild.
I Didn't Visit Tinubu – Obi Says In an Interview
The denial of visiting Tinubu by Obi comes after Tinubu met with All Progressives Congress (APC) governors under the aegis of Progressives Governors' Forum days after his return to Nigeria following a nearly five-week European trip.
Read More: Worker's Day: Workers Will Enjoy Wages Under My Watch – Tinubu Promises
The APC governors visited Tinubu to congratulate him on his election and welcome him back from his recent trip abroad. The meeting was also followed by a friendly and most cherished meeting with the Emir of Kano, Alhaji Aminu Bayero CFR.