Elections: Binani Denies Offering INEC ₦2B, Cries Out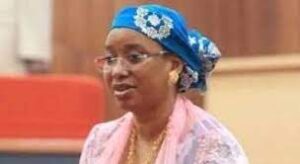 The candidate of the All Progressives Congress (APC) in the Adamawa State governorship election, Senator Aishatu Dahiru, popularly known as Binani, has denied allegations that she bribed Independent National Electoral Commission (INEC) officials to declare her the winner of the election. The Resident Electoral Commissioner in the state, Hudu Yunusa Ari, had declared Binani the winner of the poll, but INEC suspended the collation of results and banned the REC from office. In a video that surfaced online, Ari appeared to confess to receiving a bribe of N2bn to announce Binani as the winner, with his mouth bloodied and speaking at gunpoint. However, Binani has refuted the allegations, insisting that she did not give anyone a bribe to subvert the democratic process.
Elections: Binani Denies Offering INEC ₦2B, Cries Out
Binani claimed that an officer of the Department of State Services (DSS) made "very bizarre, unfounded wild allegations" against her. She asserted that she is a democrat and would never do anything to subvert the democratic process. Binani also highlighted that in the past, she had won elections into the House of Representatives and the Senate in a free and fair manner. She argued that what happened in Adamawa was an unsuccessful attempt to subvert the will of the people.
Binani further revealed that the REC was illegally told to stand down by two INEC national commissioners from Abuja who were supposed to be in Adamawa in a supervisory capacity. She also questioned the nocturnal visit of some INEC national officers to Adamawa State Government House and the bizarre declaration the same day after the visit that they had taken over the collation through the backdoor, with the collation and returning officers selected by the Governor of Adamawa. Binani called on all lovers of democracy to take a deeper interest in the electoral process and democracy, not only in Adamawa but throughout the country.
Elections: Binani Denies Offering INEC ₦2B, Cries Out
Read More: Don't Allow Anyone Use You For Politics – Wike To Churches
Binani thanked her supporters for their unflinching support and urged them to ignore the opposition smear propaganda. She urged everyone to be committed to democracy and not to engage in do-or-die politics. Binani's denial of the allegations of bribery underscores the need for transparency and accountability in the electoral process. It is essential to ensure that the electoral process is free and fair and that candidates who win elections do so on merit and not through bribery or other corrupt practices.