Don't Allow Anyone Use You For Politics – Wike To Churches.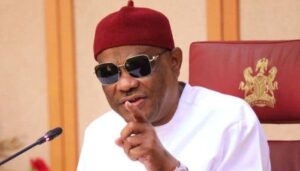 Rivers State Governor, Nyesom Wike, has urged church leaders to be wary of politicians who may want to use them to advance their political interests.
Speaking during a special church service to commemorate the second anniversary of the administration of the Presiding Pastor of the Redeemed Evangelical Mission, Bishop Mike Okonkwo, in Port Harcourt, Governor Wike said the church should remain neutral and not align with any political party.
Wike emphasized that the church should focus on its primary mandate of winning souls for Christ and should not allow itself to be dragged into the murky waters of politics. He warned that the church could lose its credibility if it is seen to be supporting a particular political party or candidate.
The Governor also called on church leaders to speak up against injustice, corruption, and other societal ills. He stressed that the church has a critical role to play in promoting good governance, accountability, and transparency in the country.
Don't Allow Anyone Use You For Politics – Wike To Churches.
He said: "The church should be able to speak the truth at all times, no matter whose ox is gored. You should be able to tell politicians the truth, whether they like it or not. If you compromise, then you are finished. You must be able to stand up for what is right and speak up against what is wrong."
Governor Wike commended Bishop Okonkwo for his exemplary leadership and contributions to the development of the church and the society at large. He described him as a man of integrity who has dedicated his life to serving God and humanity.
The Governor also used the occasion to reiterate his commitment to the development of Rivers State, noting that his administration has made significant progress in various sectors, including education, healthcare, infrastructure, and security. He assured the people of the state that his administration would continue to prioritize their welfare and work towards improving their standard of living.
Don't Allow Anyone Use You For Politics – Wike To Churches.
In his response, Bishop Okonkwo thanked Governor Wike for his support and encouragement over the years. He noted that the church and the government have a common goal of promoting the wellbeing of the people, and urged all stakeholders to work together towards achieving this goal.
He called on politicians to put the interest of the people first and avoid engaging in acts that could undermine the peace and stability of the country. He also emphasized the need for leaders to lead by example and promote values such as honesty, transparency, and accountability.
Don't Allow Anyone Use You For Politics – Wike To Churches.
Governor's advice to church leaders is timely and relevant, especially as Nigeria prepares for the next general elections. The church should focus on its spiritual mandate and avoid being drawn into the murky waters of politics.
Read More: EFCC Vows to Investigate How Abia Funds Was Utilized For 8 Years After 29th May
Church leaders should speak truth to power and hold politicians accountable for their actions. In the same vein, politicians should prioritize the interest of the people above their personal interests and avoid using religious leaders for their political gains. Only then can Nigeria truly move forward and achieve its full potential.