The Labour Party has reported that Peter Obi, the presidential candidate of the party, was held at Heathrow Airport in the United Kingdom and questioned by immigration officials. According to a statement from the Obi-Datti media office, Obi was approached by an immigration official who handed him a detention note and told him to step aside while he was in line for the necessary airport protocols. The media office suggests that he was taken aside for a "copying crime" that implies that he was an impostor in the country. UK Immigration Detains Obi Over Impersonation Claims.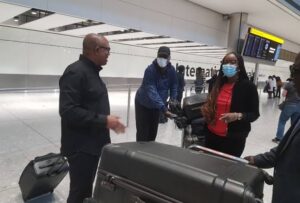 Professor Chinyere Okunna, a well-known mass communication expert and the deputy vice chancellor of Paul University in Awka, reported on Wednesday morning that Obi was held at the airport and spoke of his pain over his ordeal and other incidents intended to pursue and drive him out of Nigeria. Immigration officials reportedly claimed that someone was impersonating Obi in the country, which raised alarms. They revealed that Obi was being questioned for a duplication offense, indicating that someone had been impersonating him in London, and that the impersonator could be committing all kinds of weighty crimes and other dubious acts in Obi's name.
UK Immigration Detains Obi Over Impersonation Claims.
Read More: You Failed To Condemn Datti's Treasonous Comment Lai Mohammed Blasts Obi
The Obi-Datti media office recalls that their principal has been under attack since the February 25, 2023 presidential election, in which he put up an outstanding showing coming third out of 18 contestants as announced by the Independent National Electoral Commission (INEC). Despite this, Obi's supporters and many other election watchers, including international observers, strongly believe that he won the election but was manipulated out. Since being told to go to court if he feels strongly about the election and accepting the results, Obi has faced severe attacks from all corners.
The media office informed that Obi is currently back in Nigeria and has maintained his charitable efforts by making gifts and visiting hospitals. They gave all good-willed people, notably the 'Obidients,' the assurance that they should not be deterred since he is willing to endure the suffering and would continue to be even more determined to follow whatever course his creator has planned for him in Nigeria.