Information Minister Lai Mohammed has accused the Labour Party's presidential candidate, Peter Obi, of failing to publicly condemn the "treasonable utterances" of his running mate Yusuf Datti Baba-Ahmed. Mohammed made the statement in response to calls for his arrest and prosecution from the leader of the Pan Niger Delta Forum, Edwin Clark, who accused Mohammed of spreading "fake news" about Obi. You Failed To Condemn Datti's Treasonous Comment Lai Mohammed Blasts Obi, keep reading.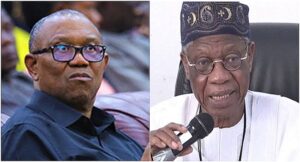 Mohammed defended his statements about Obi and Baba-Ahmed, saying they were not based on falsehood. He cited Baba-Ahmed's statement on live television that if President-elect Bola Tinubu is sworn in on May 29, it would be the end of democracy in Nigeria. Mohammed also criticized Baba-Ahmed for saying that swearing in Tinubu on May 29 is like swearing in the military.
The minister stressed that Baba-Ahmed had not denied his "treasonable" statement and that Obi had failed to publicly condemn Baba-Ahmed's objectionable utterance. He reminded Nigerians that the position of the law is clear: anyone aggrieved over election results should go to court. It is not to start threatening Nigerians and heating up the polity simply because you lost an election. You Failed To Condemn Datti's Treasonous Comment Lai Mohammed Blasts Obi
Read More; Even The Courts Cannot Stop Tinubu's Mandate – Gov. Umahi
Mohammed reiterated that the All Progressives Congress (APC) won the presidential election "fair and square," and that the Independent National Electoral Commission (INEC) was right in declaring Tinubu the winner. He reassured Nigerians and the international community that the president-elect would be sworn in on May 29.
Mohammed's statement underscores the importance of responsible leadership and the need for politicians to accept the outcome of elections and resort to legal means to seek redress. It also highlights the need for unity and stability in Nigeria, especially as the country prepares for a new administration.
The issue at hand is not about the authenticity of the election results but about the conduct of politicians and their utterances. Mohammed believes that politicians should be held accountable for their statements, and they should not make comments that could incite violence or threaten national security.