A group of people who were authorized to watch the election process in Kano State has spoken out against the declaration of Abba Yusuf, the New Nigeria Peoples Party candidate, as the winner of the governorship election. They believe that there were irregularities in the process, particularly in five local government areas, and that the results should be carefully reviewed. Elections: Observer Group Calls for Kano Guber Result Review.
The group, called the Coalition of Domestic Observers, is made up of people who were given permission by the Independent National Electoral Commission to monitor the election. They are not affiliated with any political party and are not biased towards any candidate.
They have pointed out that there were reports of irregularities in the election process in some areas, which may have affected the results. They have called for the commission to re-examine the Bimodal Voter Accreditation Systems to check the results from the five local government areas of Gwarzo, Tudun Wada, Bagwai, Dala, and Fagge in Kano State.
The coalition has emphasised that they are not calling for the cancellation of the election, but rather for a review of the results in the affected areas where there were concerns about over-voting. Elections: Observer Group Calls for Kano Guber Result Review.
They have affirmed that they are a credible and reliable source of information and have always provided accurate and verifiable data without any intention of misleading or harming anyone.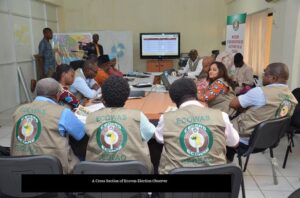 Read Also: PDP: Ayu Debunks Suspension Rumor
As observers, their duty is to identify, observe, report, and refer all communications to the electoral commission. They believe that the commission has the responsibility to conduct fair and credible elections and to announce accurate results.
As it stands now, only the court and the tribunal has the power to review the results as the already declared results cannot be reviewed by the INEC.