Ways Crowded Classroom Affect Academic Performances of the Students/ Pupils
A crowded classroom is one of the most common problems faced by teachers nowadays. There are several factors that cause this problem, such as overcrowded classrooms, poor quality desks, overcrowded rooms, lack of student discipline, bad teaching habits, and lack of teacher training.
In one sentence, "poor teaching environment and low quality education" best describes the problem that brings about crowded classrooms. Ways Crowded Classroom Affect Academic Performances of the Students/ Pupils. In our previous article on 6 ways help an academically poor child to improve, we highlighted this case study as a major problem.
In my opinion, these problems occur due to improper planning by the school management. This problem greatly affects the academic performance of students and pupils. If these problems are not dealt with properly, the future of our children is at stake. This is why we have to find the root cause and the best possible way it can be tackled.
This article will discuss extensively some of the ways crowded classrooms affect the academic performances of students and pupils and possible solutions to it. Let's dive into that.
Ways Crowded Classroom Affect Academic Performances of the Students/ Pupils
1. Lagging/ Uncoordinated Learning
The relationship between a teacher and their students plays a vital role in the academic upbringing of a child. Teachers teach in the class rooms while the pupils/students learn under their watch. In a situation whereby the students are much more in number than the required amount, I guess the teacher will barely have time for his/herself talk more about the people that have been placed under his/her care. 
Everything that happens in the classroom has an impact on the general academic performance of the whole students in the class. One valid reason the class will lag is that everyone cannot be carried along. Ways Crowded Classroom Affect Academic Performances of the Students/ Pupils
For example, in Africa, using Nigeria as a case study, the scenario we are discussing is rampant in many public schools. Some classes in some public schools have up to 60 students in a class, some have 70, some 50. And I'm not surprised to see such because the facilities are not enough. Even those that may have enough don't have the workforce. 
The number of students in the class determines how tedious the work of teaching and supervising will be for the teacher. It will greatly affect the performance of the teacher because they are humans too. They get overwhelmed just like in any other profession. Ways Crowded Classroom Affect Academic Performances of the Students/ Pupils.
2. Diluted Learning Attention
 Overcrowded classrooms are not conducive to learning at all. Often times students/pupils cannot concentrate and focus on their lessons. Why? This is because they find it difficult to concentrate when lessons are going on. The noise level inside the classroom is unbearable, even for the ones that are serious about paying attention to what the teacher is saying.
They are distracted by noises, smells, and movement around them. Some of them go to the extent of clustering together in different groups just to talk about their experiences whereas the lesson is on, which I was guilty of during my primary and secondary school days.
Some of our teachers then only caution us and won't bother about punishing us because they believe that as long as one or two students are paying attention, we already justify that they tried their best to instruct us. Ways Crowded Classroom Affect Academic Performances of the Students/ Pupils. Read also:n Speech Writing, Format and Samples.
3.  Poor Academic Result
While we assume pupils/students learn a lot when they go to school, why then do many of them perform poorly when the results are released? Here we are not talking about the 1st class pupils, it's all about the third class pupils. Teachers sometimes neglect the aspect of comparing the failure rate of their pupils over the previous terms or years, whichever. 
In most private schools, you get queried if the performance of your third class pupils is poor, whereas in public schools, the reverse is the case, except for a few that take notice of that. 
The presence of too many students in the classroom makes lesson preparation difficult. Teachers spend much time trying to divide the class into groups according to subject matter. During this process, the teacher loses valuable time. 
Ways Crowded Classroom Affect Academic Performances of the Students/ Pupils
4 Physical Abuse
A lot of pupils may not be able to speak up about the number of abuses they receive on a daily basis from their classmates. You may think of it to be common and ordinary but in the real sense, it has a lot of impact on the performance of the student. 
Many years ago, during my primary education, we had this certain group of students that believed they were superior over others. As it was then, some of us were controlling the others but it was never noticed due to how populated the class was. Only the cases of bullying that turned obvious were reported to the school authorities.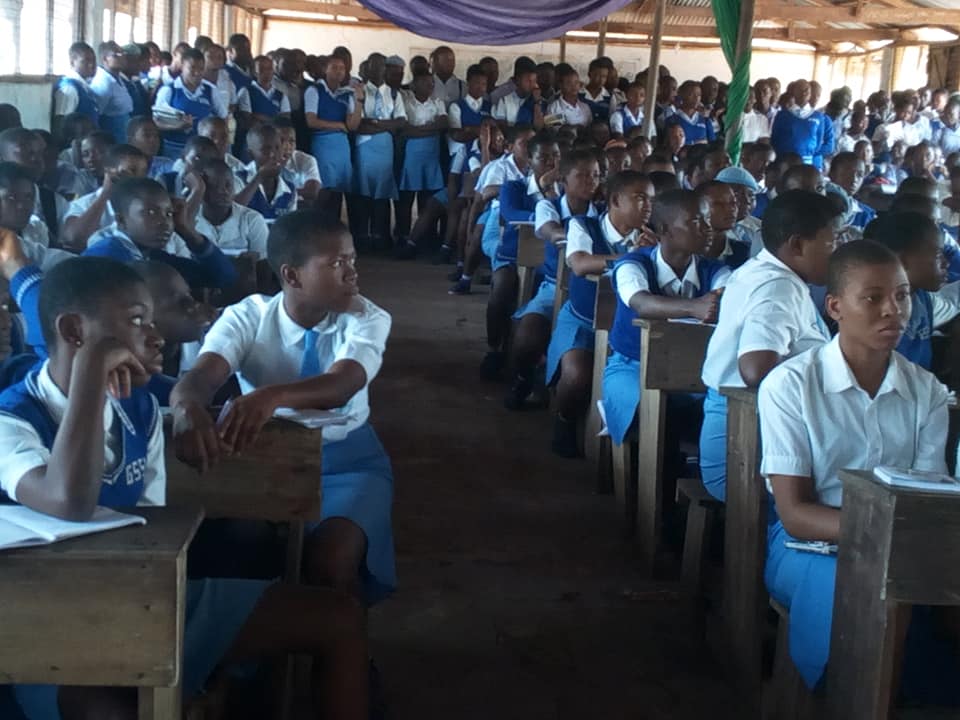 Ways to Curb Overpopulation in the Classroom 
Here are several ways to determine the ideal number of students in a class:
1. Number of Students Per Class
A classroom should ideally contain 20 students per teacher. At least, the ratio should be 10 students to one teacher. This will go a long way to easing the burdens of overburdened teachers who are finding it difficult to cope with the stress of managing an overcrowded class. Provided that the teacher is not the biological parent of all the pupils, there's no reason to rest all the workload on their shoulders. 
2. Percentage Of Teachers To Students Ratio
Ideally, the ratio of teachers to students should be kept at 25% to 30%. Too much emphasis on teaching reduces the focus on assessment, evaluation, and research. Too little emphasis on teaching leads to students failing exams, assignments, quizzes, and tests. Ways Crowded Classroom Affect Academic Performances of the Students/ Pupils.
Teachers spend most of their time preparing lessons and giving feedback. They hardly have time to assess, evaluate, and research. This is why they need to be more than just one or two, so that they will have the time to research and give quality feedback to the pupils. Such inadequate preparation ultimately results in poor grades and failures on examinations, assignments, quizzes, and tests.
3. Ideal Age For Students
According to experts, young children benefit from small groups and peer interaction. Children aged six years old and below should be taught individually. Children over six years old benefit from group instruction. Children between seven and twelve years of age are better off in mixed age groups. Adolescents learn better from peers than adults. Therefore, adolescents should be taught together. Similarly, teenagers do well with older teens.
Primary school pupils are usually within the age range of six to eleven years. This means that within this period, they need more intensive supervision from their teachers than they will ever need again in life. Teaching methods and approaches should be modified according to the age of the students. Younger students benefit from a hands-on approach. Ways Crowded Classroom Affect Academic Performances of the Students/ Pupils.
4. The Ideal Size of Classes
Class sizes vary depending on the subject matter. Smaller classes are beneficial for subjects like art, music, drama, sports, science, mathematics, and computers. An average class contains 24 students. It is advisable to hold classes of 30 students or fewer. More than 30 students in a classroom creates problems in terms of space and resources. School management should ensure that classrooms maintain a capacity of 30 students per class.
5. Recommended Subject Loads
Young pupils/students need sufficient breadth and depth to succeed in academics. A large part of the curriculum must be devoted to core courses. These include English, math, social sciences, natural sciences, humanities, and foreign languages.
Core courses provide a fundamental understanding of different disciplines; they serve as the bedrock for the future academic success of the pupils. Furthermore, they also ensure that students develop the skills and competencies needed for future employment.
Ways Crowded Classroom Affect Academic Performances of the Students/ Pupils
Conclusion
A congested classroom is an unhealthy environment for pupils and teachers alike. Therefore, we need to ensure that the next generation experiences a better learning environment. We need to change the way we teach. To achieve this goal, I suggest that every classroom should have a timetable planner. Every pupil should know his or her schedule before entering the classroom. Then, he or she should follow the timetable carefully.
The teacher should plan his or her lessons accordingly. Each lesson should last 40 minutes or less to help the pupils not get bored and begin to lose interest. This will give the pupils sufficient time to complete their homework and prepare for tests. Ways Crowded Classroom Affect Academic Performances of the Students/ Pupils
To conclude, overcrowding in class rooms is an educational issue that needs urgent attention. It is not fair to expect pupils to learn under such conditions. Read also: How Camera Phones Destroyed Photojournalism.
Ways Crowded Classroom Affect Academic Performances of the Students/ Pupils
Ways Crowded Classroom Affect Academic Performances of the Students/ Pupils