EVIL: Reactions as Man Found little Boy's Penis Inside the Food He bought From  Local Food Vendor
Little boy's Private Part served as Meat by Local Food vendor.
Reactions trail photos of a Little boy's Private Part served as Meat by a Local Food vendor. This was shared on Facebook by a yet-to-be-identified man who bought rice and beans from a food vendor in one of the popular Motor Parks.
A man was frightened to his bone marrow when he wanted to eat the meat he bought along with the Rice and Beans Banga stew which he bought from a local food vendor. Instead of the normal meat or Kanda, or roundabout which the seller normally sells to him, he saw this.
The world is truly turning evil indeed. Who wouldn't be shocked with this gory site? It was the private part of a little boy. I mean a young boy Cassava.
This image really means a lot. It really shows that somewhere near us in Nigeria that people are killing fellow human beings and using the parts as meat. Not only that, the human parts are now sold to the food vendors as meat which they, in turn, sell to their unsuspecting customers as normal animal meat.
Little boy's Private Part served as Meat by Local Food vendor
TWO SIDES OF THE STORY:
People alleged that the food seller didn't sell it intentionally. In fact, it was said that some food sellers, especially in the region where the food was bought usually have dark secrets they used to invoke customers.
One among them was caught recently with a life cobra inside the big pot on the fire which she never brought down from the fire. When she ran out of soup, she will make a fresh soup with the same pot on the fire without washing the old remaining soup.
So, it was said that the little boy's 'brokos'  was the ritual the food seller was using to make money. She didn't know she sold it to a customer. Or, someone in her shop sold it out with food, blindly.
Meanwhile, the second side of the story is something different from this story. "It is a Jacky (male donkey) private part. We all know some food sellers used donkey meat since it is cheaper than beef.
"Look at the meat closely, it belongs to Donkey's part. Donkeys shares some similar features with human beings". So, from this second argument, it is not a human private organ as insinuated.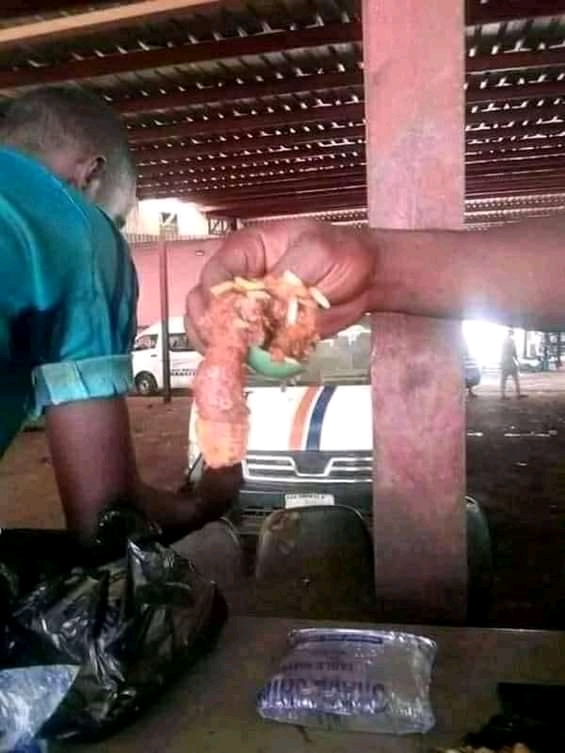 I wanted to know the location where the food was sold and bought. So, I spoke to the person who shared the photos. According to the Facebook user who shared the horrific photos she said she got it from her friend's wall. She said:
"Someone bought the food from a food hawker at Aba. He saw a boy's private part served as meat. But it is more than 5yrs now".
Odi egwu (exclamation)! What is your opinion on this? Do you think it could be donkey meat as alleged or a human part?