Will there be Public Holiday on Monday August 9, 2021?
Public Holiday on Monday, August 9. Following the agitation by some Islamic groups to declare every 9th of August, the Islamic Holy week as a Public Holiday, the Federal  Government of Nigeria has gone ahead to carry out the request. This notice came at the time when the Indigenous People of Biafra IPOB are planning for a massive Sit-at home for Nnamdi Kanu on the same Monday.
Islamic faithful in Nigeria join the rest of the world to mark Hijrah Day every 9th of August. On this note, they have mounted pressure on the President to declare the beginning of the Hijrah day as a public holiday. "Declare August 9 public Holiday or we will ask Allah to punish you…" They threatened.
EVIL: Man Found Boy's Penis Inside Food He bought From Local Food Vendor
BBNaija Week 2 Eviction: Who is the First Evicted BBN Housemate? He is…
Will there be a public holiday on Monday, 9th of August? Yes. There is will public holiday. Some Islamic States like Osun State have declared the 9th of August as a Public holiday to mark Islamic Holy week. On this note, most state and federal Government Parastatal in some of these states may not be opened services and schools too will not be on resumption until Tuesday, the following day.
Public Holiday on Monday
PUBLIC HOLIDAY: Monday 9th August Declared Public Holiday. Monday 9th of August has been declared a public holiday. Islamic faithful in Nigeria asked for it and it is granted to them.
Some leaders of the Islamic groups have over the week mounted pressure on President Buhari to declare the 9th of August as a Public holiday to mark the celebration of Hijrah day. In addition, they threatened to tell Allah to punish the president if he fails to do as they requested.
IPOB Sit-at-Home or Public Holiday?
This is actually the question on peoples' lips, especially those living in Eastern Nigeria. Is it sit-at-home for Nnamdi Kanu on Monday or is it stay-at-home for a public holiday?
When my daughter returned from school yesterday, I asked her if they were told anything about coming to school on Monday. She said the school management will send a message to us if there will be school on Monday.
I was surprised at her response because the school is among the core mission schools. They never observe other religious public holidays other than the ones that concerned their faith.
So, how come they will observe the just newly birth Islamic Hijrah day public Holiday? It is very obvious, some will sit at home to celebrate Islamic Holy week while some will seat at home for the Nnamdi Kanu Freedom protest.
Others still will seat for the fear of what they may encounter on the road on the said day, especially those living in the Eastern States. The question now is; is there truly a Public Holiday on Monday or IPOB Sit-At-Home Order? We will still know.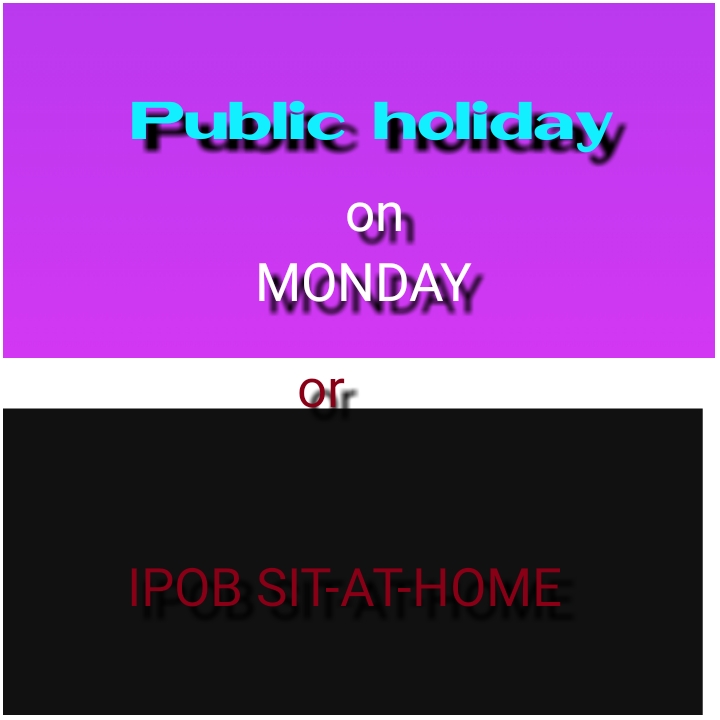 Thanks for reading. You can drop your opinion in the comment box and SUBSCRIBE to follow us for more news.