I know Your Works Rev 2: 2 (Sermon)
During our Women Conference in 2019, we discussed the theme "I know your works". It is a message from our Lord Jesus to the Church (us). It simply means God is taking records of whatever we do in this life both the good and the bad. This is a message given to St. John in his peak of tribulation. I know Your Works Rev 2: 2 (Sermon).
ATTENTION:
"2 I know what you have done; I know how hard you have worked and how patient you have been. I know that you cannot tolerate evil people and that you have tested those who say they are apostles but are not, and have found out that they are liars." (REV 2: 2)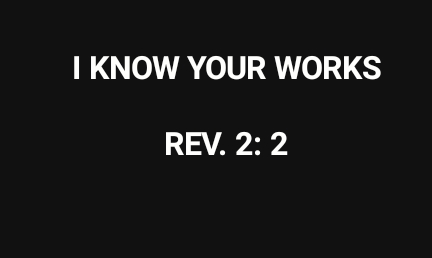 Jesus reveals himself to Apostle John to evaluate seven specific churches. The letters were not addressed to these seven churches because they were the only Christian community in the Roman Empire. Nor were they actually addressed exclusively to them. Rather, seven churches were chosen because seven were the numbers for completeness, and thus these seven churches represent the whole of the believing community of God.
Most of them were experiencing persecution, and some were being tempted to compromise with the systems and powers of evil.  Just like the receiver of the revelation, John, who was thrown into the Island of Patmos to be frozen by cold after serial tortures.
Similar situations face churches throughout the world today. Some are persecuted. Go to many parts of Northern Nigeria, many churches have been closed down for fear of terrorism, some churches are persecuted, with their members being added to the long list of Christian Martyrs. Some are living in conditions of social injustice and are involved in a difficult struggle to change those conditions. Others, like the church in Laodicea, are rich, safe, and respected, and yet they are spiritually bankrupt. 
We need to use our ears to 'hear what the Spirit says to the churches. To all of us, rich and poor, weak and powerful, secure and persecuted, literate and illiterate. It is a call for the Rural and Urban church; parishes and non-parishes, Yoruba, Igbo or Hausa, America, Asia, and Africa. We should care about what is happening with the Christian church worldwide.
I know Your Works Rev 2: 2 (Sermon)
THREE GREAT POINTS TO PONDER ON "I KNOW YOUR WORKS":
Number one point to ponder is the nature of the speaker: 
At various points, while addressing each Angel of the seven churches, the speaker who is our Lord Jesus revealed His supernatural 'very many' nature or identity. Jesus introduces Himself to the Churches using the same descriptions of Himself he used to reveal to John in (John 1:12-22).
To the Angel of the church in Smyrna, Rev. 2:8b, He is the First and the last, who was dead and came to life.
To the Angel of the church in Pergamos. He is He who has the sharp two-edged sword Rev. 2:12b.
To the Angel of the church in Thyatira, He called Himself the son of God, who has eyes like a flame of fire, and His feet like fine brass. Rev. 2:18.
To the angel of the church in Sardis, He is the one who has the seven spirits of God and the seven stars. Rev. 3:16.
To the angel of the Church in Philadephia, He is Holy. He who is true. He who has the key of David. He who opens and no one shuts and shuts and no one opens. Rev. 3:7.
To the angel of the church in Laodiceans; He is 'The Amen. The Faithful and True witness, the Beginning of the creation of God Rev. 3:14.
When addressing the angel of the church in Ephesus, Rev. 2:1. He says He is the one who holds the seven stars in His right hand, who walks in the midst of the seven golden lampstands.
The angels of the church are the messengers, church leaders, women of God. At any capacity we see ourselves rendering services to God; we have become the church angels. It can also mean the church messenger, call it the church messenger, call it the evangelist, welfare, prayer leader, secretary, treasury, financial secretary, chairperson, Ochiora, etc. We are the angels of the church.
Dearly beloved in Christ, we are the seven stars in the right hand of God and the church is the seven golden lampstands. It is just like a servant who is given a broom to sweep a room under the watch of his master. The master sees every move of the broom.
At this point, the master needs not to query his servant if the floor was swept or not. Whether he sweeps or not, the master knows and sees. Whether he sweeps well or does 'mago mago' (partiality) the master sees and knows.
Again, the golden lampstands stand for light. And Jesus walks around it. It also means that everything we do is bare and open before God.
The second point to ponder on is: NO WORK IS EXCLUDED:
I know your works can also be put these ways: 
I know you in and out
I know all your secrets
I know all your hearts
The spirit of God was careful when He mentioned works. It was pluralized to include invisible and visible works. Every of our 'muchi-muchi, every mere mere n'iru, gbamputu n'azu' (pretense and chameleon attitudes) are included. Every of our 'amu di n'iru, iwe di n'obi' (shady dealings); He knows them.
He knows the good ones too. He saw them. And He commends us for it. He promises to reward us for them Rev. 2:3, Rev. 3:8. Know today that no work is hidden before God. God is light and in Him, there is no darkness at all.
Song: ipughi izonari ya Chineke nna,
Mgbe m na- ekpuchi mmehie mo
Oriri na onunu nke uwa abughi ebe ndu di
Ikpoaku na mma nke uwa
Abughi ebe ndu di .Ndu di n'akachukwu
I know Your Works Rev 2: 2 (Sermon)
The third point: WHO HAS AN EAR: 
The entire letters end with the same exhortation 'he who has an ear, let him hear what the Spirit says to the seven churches (Rev. 2:7, 11, 17, 29, 3:6, 13, 22). This was not just an empty formula. It placed the responsibility on the shoulder of the recipients. The only excuse anyone could have for not just responding to what the spirit had to say was that he or she had no ears.
Anyone who had ears had no excuse.
Finally, people of God, God is writing again to us today to amend our ways. We should bear in mind, that every one of our works is bare before God. We shall all give an account of them at end of our lives here on earth.
Prayer: Lord, help me to grow physical and spiritual ears to always hear and keep your command. Amen.
Conference prayer
Oh Lord, our heavenly Father, have mercy upon us and forgive our sins and sins of this nation. We pray thee Mighty father to deliver us from the shackles of the evil one. Give ears unto our cries and prayers. Help us to run this race and make heaven on the last day in Jesus Name; we pray, Amen.
I know Your Works Rev 2: 2 (Sermon)
Conclusion
Beloved of God, thank you for spending your time to listen to this address. You are a true mother in Israel.
Get ready for what the Lord will do on your behalf. As you depart to your homes, the Lord's presence will continually abide with you in Jesus' name. amen.