Sandalwood Powder/Paste and its Uses
10 uses of Sandalwood Powder
Dear reader, welcome to our space. Here, we want to discuss the 10 uses of SandalWood powder. But before we dive into that, we will also talk about all you should know about sandalwood.
Sandalwood is one of the ancient
trees found in the forest
around the world. I used the word ancient tree because, before my birth or the birth of my mother, my late grandmother and her later mother were using it.
It is known as "Osisi uhie" in a typical Igbo dialect. It was called according to the unique color which it produces and that is in fact, its essence.
Uhie stands for Carrot or Carrotten color. Sandalwood is known for the production of deep yellow wood that is grounded into a powder. When this wood powder is mixed with little water, it will become a thick deep-yellow paste.
However, in the olden days, the paste made from sandalwood was used for all kinds of beautification. It was used as paint in decorating the thatched mud houses. It was also used by potters to decorate the wooden and the mud pot.
Apart from these, Sandalwood paste was used for facial and body decoration s and beautification. It is known as "ide uri" in a typical Igbo dialect. During those days, young maides who were getting married were decorated with the extracted paste by their friends.



Extractions of Sandalwood
Sandalwood is a precious and highly valued tree. It is rare to see where the tree was fallen or cut down as used to be the tradition of some people.
People go to the tree and cut open the bark. They will use a sharp knife to cut out a wood piece from the tree body (stem).
I had followed my grandmother many times to the tree to extract the wood. Sandalwood makes a giant tree that is impossible to climb. Ordinarily, it would be climbed by us and have its branches cut down for the extract.
All these times we visited, I waited for my grandma while she patiently cut out pieces of the wood from the tree. When she was done, she would order me to do the gathering.
Some people said they have the sandalwood dried under the sun before grinding it into powder. It is good. But that was not the method my Grandmother used.
Meanwhile, I actually, saw reason with her. What is the essence of drying the wood under the sun when the powder will still be mixed with water? She had a rounded stone with sharp teeth where she did the grinding.
10 Uses of Sandalwood Powder
Apart from all the ancient uses of Sandalwood I have listed above, there are other things this precious wood is used for. I will mention ten of them.
But before then, I am going to list all the uses in a typical local home. I mean, I was telling you about my grandmother and how we extracted sandalwood pieces from the tree.
So, I am going to mention what we did with it.
Making Organic Soap (ncha nkoto)
We produced organic soap locally using sandalwood paste. This organic soap was made from palm ashes (Ngu) and red oil. Before allowing it to form, sandalwood pastes were mixed with the local soap to give it that carrot color.
This soap most times serves dual purposes, We use it as a bathing soap and also as a body cream. That is, after bathing your body clean with the soap and water, you will apply another soapy cream on your skin and allow it to dry on your body.
Sandalwood paste gives the skin a moisturizing shed during the dry or winter season. Apply it and work under the sun, you will see how your skin will radiate.
When you apply sandalwood paste on any part of your skin, it is goodbye to dry skin. It is also applied to foot tears.



Other 10 Uses of Sandalwood Powder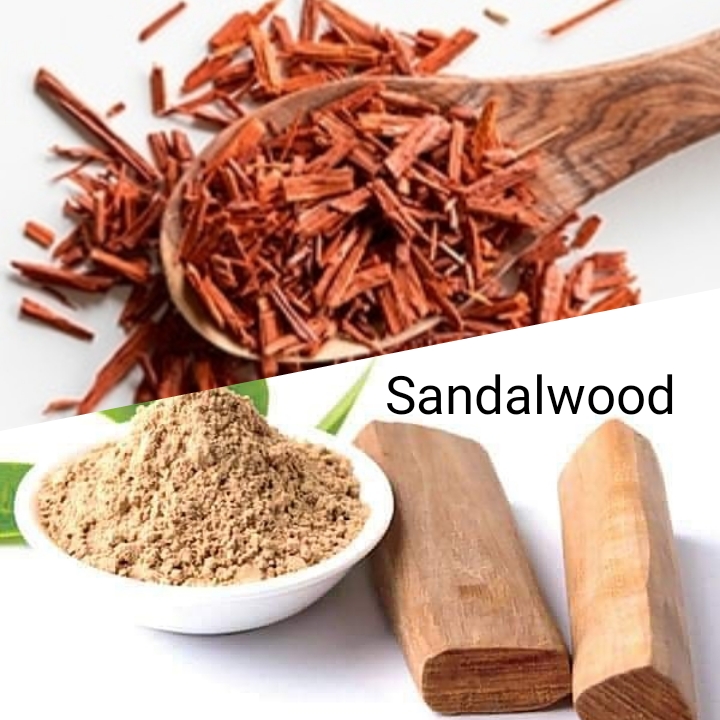 Mix sandalwood and honey together to form a paste. Apply the mixture on the face and neck for 20minutes. Rinse it off after 20minutes with water.
When you do it morning and night, you will start seeing the result in three days.
Mix sandalwood powder, turmeric, and milk to form a paste use the mixture as a face mask and allow it to dry for 20minutes, then rinse it off. This combo work like magic.
Sandalwood paste is known for the removal of dark spots on our bodies
.
Mix sandalwood with tomato juice and use the mixture as a face pack to lighten the skin naturally. The skin lightening makes the dark spot on the skin disappear or fade.
Mix sandalwood powder with rice powder and rose water apply the paste over the skin for 20 minutes. Then, wash it off. Continue this until you see the desired result.
Another important health benefit of Sandalwood is its ability to remove all manner of scars from the skin. To remove scars, just mix sandalwood powder with cabbage juice to make a paste. Apply the paste on the affected area for 30minutes, rinse it off
Or, you can use these concoctions for your soap. Within one week, you will no longer see that ugly scars on your skin.
Sandalwood powder and Paste
.Make a paste with two tablespoons of sandalwood powder with water. Apply the paste on the affected area twice a day. Allow it to dry and wash with clean water.
Natural Treatment of Acne
Take two teaspoons of sandalwood powder in a bowl. Add half a teaspoon of turmeric powder and rose water to make a paste. Apply the paste as a face pack for 20minutes.
Mix sandalwood, milk, and chicken pea flour together to form a fine paste. Apply it on the affected skin and allow it to dry. Remove the dry mask gently and rinse it off
Mix sandalwood powder and honey together. Apply the mixture on the face and then rinse off after 20minutes
Get rid of Skin Itches and Rashes
Mix sandalwood powder, milk, and camphor oil to make a paste. Apply the paste on the affected area for 20minutes
The Sum on 10 Uses of SandalWood Powder
We have come to the end of Sandwood powder and its 10 uses. In this post, we have explained what Sandwood is and where it can be found.
Also, we have listed its uses both in ancient homes and modern cosmetics. According to an article on Healthline.com, "Sandalwood oil is found in many perfumes and air fresheners". In the nutshell, Sandalwood powder or paste is for cosmetics and for beautification.