He Fights and Beats up Disabled Woman and this happened VIDEO
He Fights and Beats up Disabled Woman and this happened VIDEO. See What happened to Him for Beating up a Disabled woman Fighting with His Mother.
VIDEO! Odogwu Finally Met His Match. He Beat up Disabled Woman Fighting with His Mother and this happened Next
I call this video a sweet match. But the person who sent it to me tagged it "When Odogwu finally met his fellow Odogwu". It simply means, when a great man finally meets his fellow great man.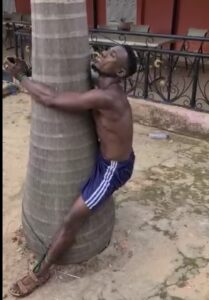 But are we going to call this guy a great man? No! He is not. A woman who limps in one leg had a misunderstanding with his mother which led to both of them fighting.
The Odogwu invited himself in the fight or his mother invited him. Instead of separating the fight, he nearly killed the poor helpless disabled woman. You need to see the way he was punching the woman.
The Height of the fight
I actually feared the woman has died. She did not die but she must end up in the hospital.
Seeing how he was demolishing a woman of her mother's age, another guy challenged him. Even the mother was not comfortable with the way he was beating her opponent. She also tried to stop her son.



But the enraged bull would not stop. Like Mike Tyson, he persisted; a fight to finish. It was a pathetic moment.
The Viral video was shared last night by Sharon Ijuolachi Akpa
"The most awesome video I saw today
So these women were fighting and the son of one of them been Odogwu mike Tyson took over and beat the other woman mercilessly…
The youths of the village tied him up and flogged him 100 times, even if that beating he gave that woman was cringeworthy
The beating he received, in turn, was so satisfying to my wicked soul and spirit, I'm happy about eet
"
Watch the Video here:
A Facebook User, Agbo Lucia has commented on the video and said'
"Koboko would have been d best, village fool, let d youth look out for koboko n keep for dis kind of fools in d village."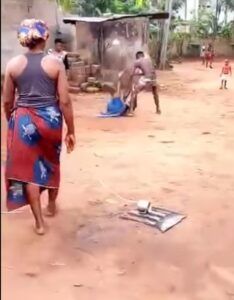 Read Reactions of People about the Incident
Le gars la le Guettait avant ou quoi??





not even man to man, you are beating woman as if is your fellow man, that is a great lesson for him

Well-done chairman, pls if he won try non sense, call boys in community to teach him before you hand him over to police

If you beat my mum even if I am in another country men must deliver that your madness….

If I happen to be around I will make sure you never come back to that street again…

I love the youths of this village, they are correct guys, they should banish him from all activities for 5 years

Those days boys like dis after dis kind of crime,d community will invite their village masquerades for a thorough cleancing beating which will serve as a gud lesson to youths of his type.

Koboko would have been d best,village fool,let d youth look out for koboko n keep for dis kind of fools in d village

This community is very reasonable people I respected them, they really did the right thing. This community is very reasonable people I respected them, they really did the right thing.

My brother say no to pakky

He Fights and Beats up Disabled Woman and this happened VIDEO

Photos

Meanwhile, we have saved some photos in case the video is removed.  Sometimes, after writing posts like this, we always encounter the problem of the original owner of the video removing it before our readers see it.

So, we have learned to screenshot photos from the video for evidence. See them.

Odogwu finally meets fellow Odogwu

It ended in premium tears. Walahi, I didn't know hard guys can cry like this.

He Fights and Beats up Disabled Woman and this happened VIDEO