Moment Driver knock LASMA Officer into the Lagos Bridge Canal (VIDEO)
Watch the video moment when a reckless Driver knocked a Policeman into the Lagos Bridge canal after following one-way. Moment Driver knock LASMA Officer into the Lagos Bridge Canal (VIDEO).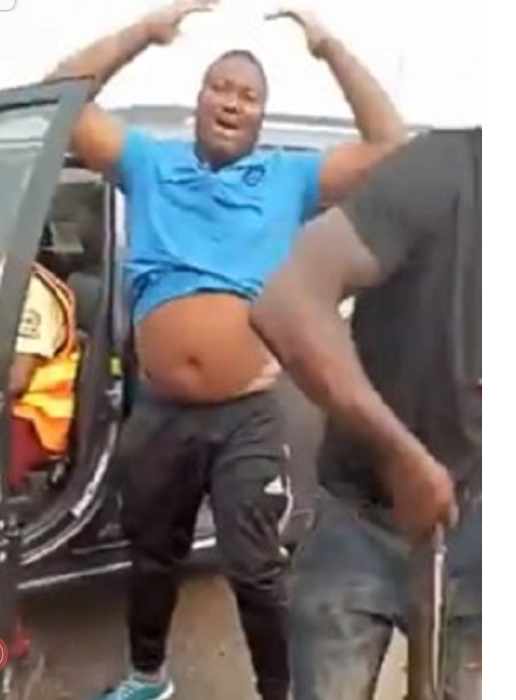 Video of a reckless driver who took one way and knocked a policeman off a bridge in Lagos because he wanted to dodge arrest has been making around social Media. It was a melo-drama today in Lagos as the man in the image above ran into huge trouble as he tried to follow one way.
A video currently circulating on social media captures the moment an errant driver knocked a police officer off a bridge while trying to evade an arrest in Lagos.
The unidentified driver was said to disobey traffic rules. When the Police Officers on duty saw him they tried to arrest him with the help of the Lagos State Traffic Management (LASMA). But the driver played a fast one on them.



He didn't want to be nabbed for violating traffic rules. So he took a reverse.
In a bid to evade arrest, the man driving a Toyota Highlander reversed and hit one of the police officers behind, throwing him off the bridge into a canal below.
WATCH THE VIDEO HERE
https://t.co/WbMQFF8Qhx
Be careful for nothing.
There things you don't with by gragra (sharp guy) https://t.co/WbMQFF8Qhx

— Bycon (@chimeka) February 25, 2021
Fortunately, the Officer was not injured. He survived the fall. He was seen in the video struggling to help himself. He was trying to swim out of the canal.
Thanks for reading. Please, remember to like our post. SUBSCRIBE to our notification to receive posts alert.