Anna and Lucy DeCinque before and After Surgery Photos
Have you heard about Anna and Lucy De Cinque of Extreme Twins Sisters? You may like to know what they look like before and after they underwent under the knife. Anna and Lucy DeCinque before and after Surgery Photos.
This post features Before and after photos of Anna and Lucy Who did Plastic Surgery to become Identical Twins. Please, share and follow us.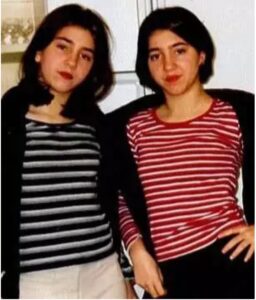 There is nothing science cannot do now except waking a dead man from the grave and making him or she live a normal life again. Minus that, everything is possible now. A woman can modify her face, shape, and body and an old man can through science be made to perform like young blood.
Plastic surgery is trending especially for women. A woman can decide to enlarge her butt and increase her boobs to any size of her choice. People modify the shape of their noses, lips, hips, etc.
This is the exact story of Anna and Lucy De Cinque. They are two sisters.
About Anna and Lucy DeCinque
The Australian-born two sisters have demonstrated an unusual bond with each other. They are 33 years old.
They were born as twins but not identical twins. Their heart desire was to become identical twins so that no one can be able to differentiate them again. So, through plastic surgery, they were able to achieve the feat.
Recently, the girls made it public that they have just one boyfriend and they do things together. They also share one bed with their boyfriend.



They modified their noses, cheeks and lips, and facial contours. They also modified their shapes to become the same and according to the report, all these modifications were done through plastic surgery and it cost them over $250,000.
Plastic surgery has made them become identical twins. It has made every part of their body identical.
Anna and Lucy DeCinque have been starred alongside other social media stars on "Extreme Sisters". It is a Tv Series by TLC. The duo has held the audience spellbound. Although some are quirked at the strange displays of the extreme sisters they also say they can't take their eyes off the series.
See the before and after photos of Anna and Lucy