2 Brothers from the same Mother Bury their wives today in Enugu
RIP: Sad as 2 Brothers from the same Mother Bury their wives today in Enugu. It is really a sad day in Enugu Today as tears flow when the bodies of 2 co-wives of the same brothers were laid to mother earth.
It is a sad moment today for the family of Onwe in Nkanu, Enugu state as two brothers of the same parents bury their wives whose lives were lost during the Akaeze-Ukwu River disaster which occurred on the 18th September 2020.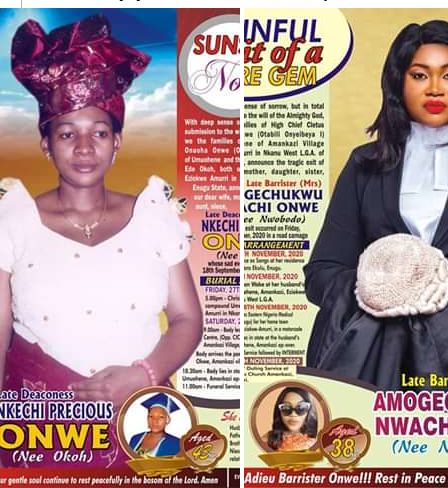 If you follow the news about a bus that plunged into a river with passengers, you will remember dozens of lives were lost in the accident. The young women buried today were among the victims of the accident. They attended a burial of their church member and met their untimely death while coming back.
The tragedy claimed dozens of lives of members of The Christ Peculiar Assembly, Enugu (National Headquarters), and other non-members of the church who attended the burial with them of one of their pastors. It was reported that on an ill-fated day, the driver was carelessly overtaking vehicles on the highway.  The calamity occurred when he tried to overtake and trailer after ignoring warnings from the passengers.
In the process of acceleration to overtake, the bus summersault and plunged into the Akaeze-Ukwu deadly river in Ivo Ebonyi state.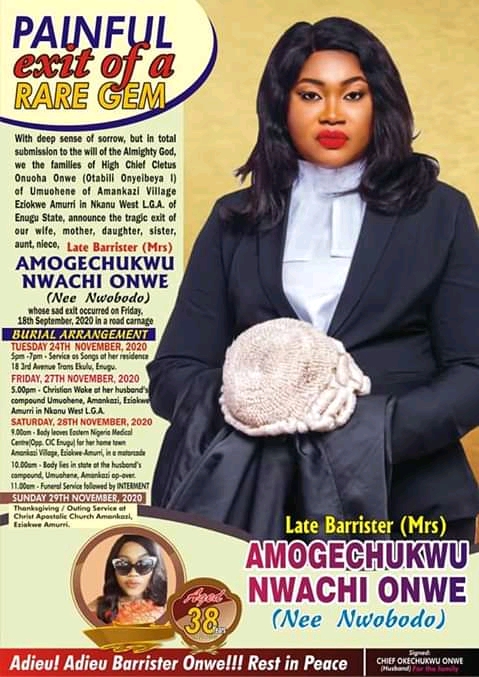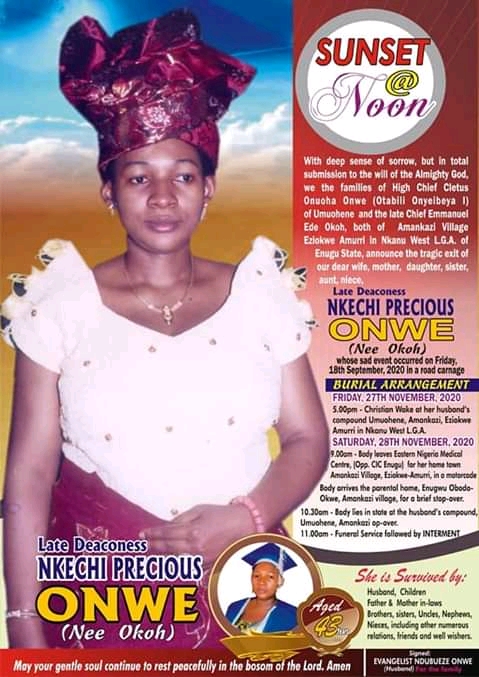 The two co-wives, Barr. (Mrs.) Amogechukwu Nwachi Onwe (Nee Nwobodo) and Deaconesses Nkechi Precious Onwe (Nee Okoh) were wives to two brothers of the same parents who lost their lives in the accident. Their remains are being laid to rest today in their husbands' family house in Enugu state.



We commiserate with their husbands, mothers and the mothers-in-law are mourning at this time. May God console them.