Man Challenges Bishop Ibezim
Man Challenges Bishop Ibezim. "Go Back To Christ, Bishop Ibezim Or You Will Go To Hell With That Throne" Man Tells Archbishop Ibezim As He Marks His Tenth Year Enthronement Anniversary As The Bishop Of Awka Diocese.
Social Media users have taken on the Archbishop of the Niger Province and Bishop of Awka Diocese, Most Rev'd Dr. Alexander Ibezim on a publication made by Anambra State Broadcasting Service (ABS) during his 10th year Enthronement Anniversary as the Bishop of Awka Diocese and 1-year Arch-episcopacy.
YOU MAY READ: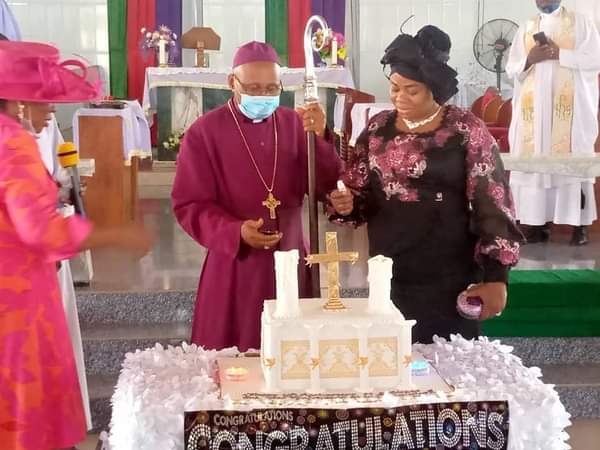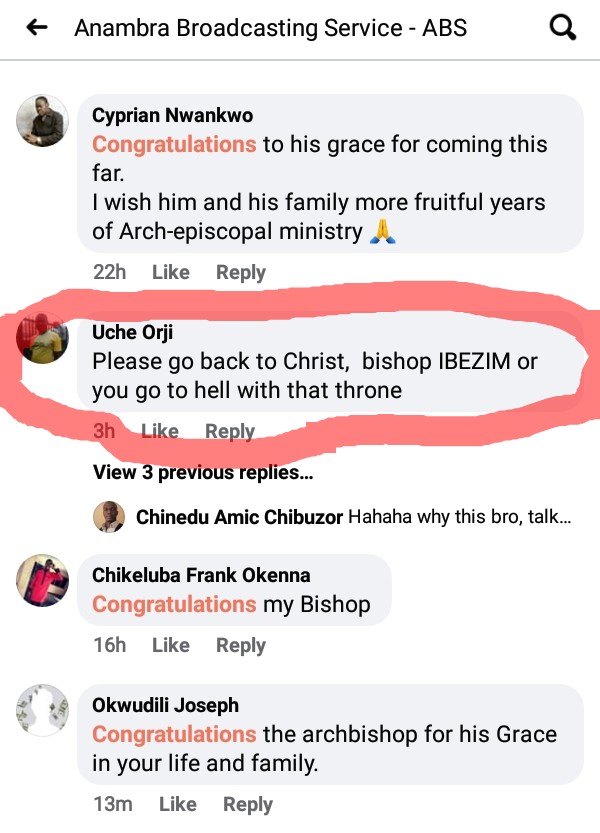 A man has taken to Social Media to tongue-lash the Archbishop, Ecclesiastical Province of the Niger and Anglican Bishop of Awka Diocese, Most Reverend Alexander Ibezim as he commemorates the tenth year enthronement anniversary and one year Archepiscopacy in Awka. The service to mark the 10th year enthronement anniversary was held yesterday at Our Saviour's Church, Awka. The event was attended by numerous, clergymen and lay dignitaries.
Archbishop Ibezim while addressing the congregation who attended the anniversary thanksgiving after the sermon by Synod Secretary, Diocese of Awka, Venerable Clement Mgbemena In his charge, admonished the Christians to be vigilant in all they do especially in the yuletide season, and beef up security around themselves. "Intensify security around yourselves" he advises.
The ceremony was covered and reported by the ABS and published on their Facebook page. Instead of the usual congratulations,  some Social Media users are reacting differently to the cerebration. Some of them found many things wrong with the cake. They are criticizing the cross on the cake.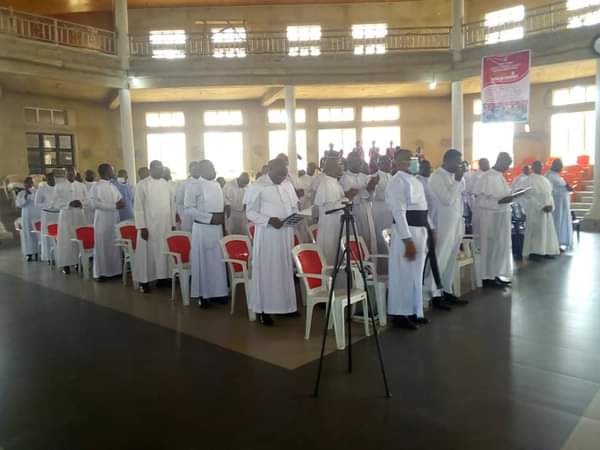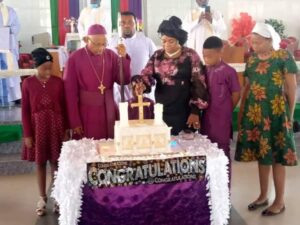 A Facebook user by the name Uche Orji openly told Bishop Ibezim that he will go to hell. This is his exact words; "please go back to Christ, bishop IBEZIM or you go to hell with that throne".
Another Facebook user said; "Cross is a sign of death not life. Having cross on a cake is not a good idea. Study your Bible…"
See Screenshots of some of the reactions: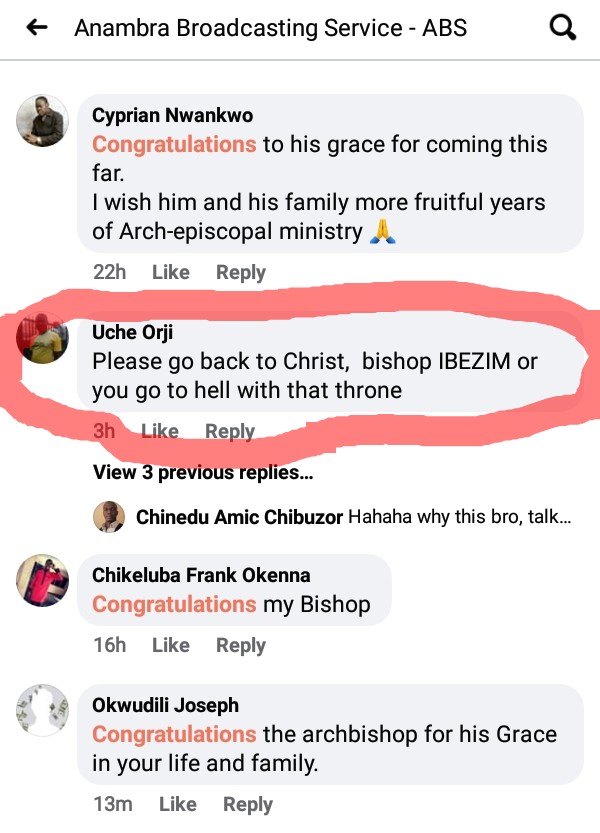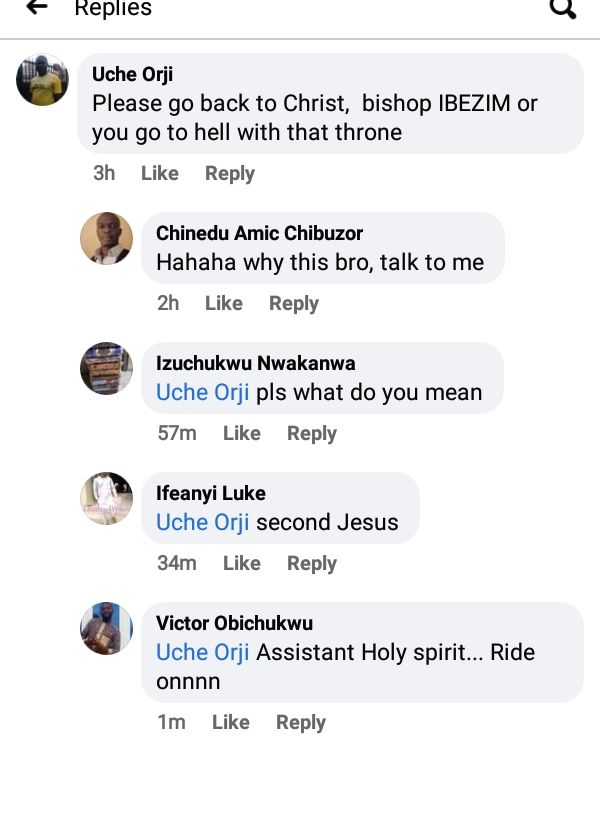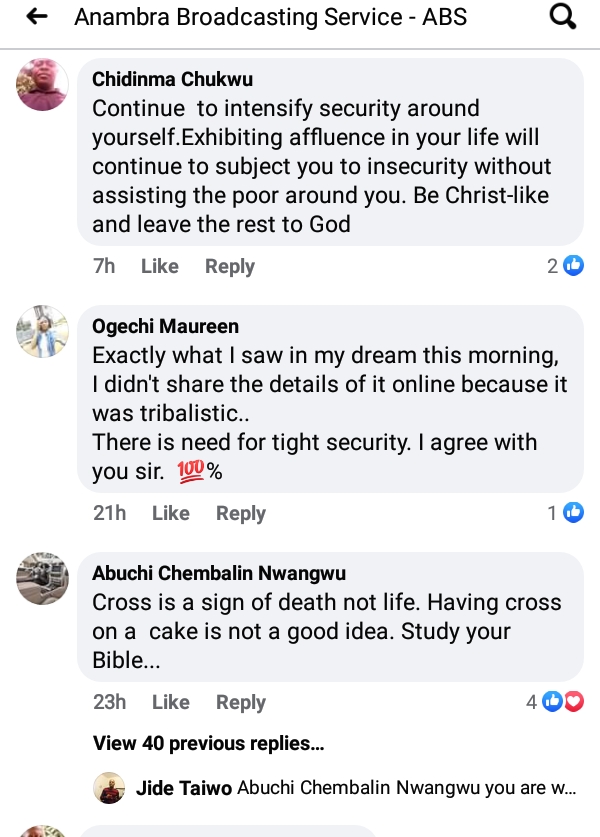 His Grace, Most Rev'd Dr. Alexander Ibezim became the elected Bishop of Awka Diocese since November 2010 and in July 2019, he emerged as the new Archbishop of the Ecclesiastical Province of the Niger.