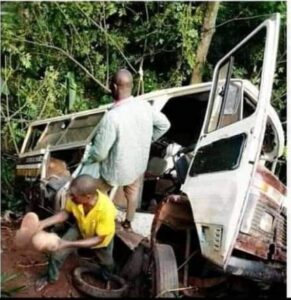 It was sad moment today for the parents of pupils of Presentation Nursery and Primary School, Awgu in Awgu Enugu state today as their school bus collided with a trailer, leaving many school children in the bus dead, including the teachers who joined in the school runs.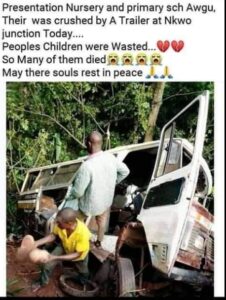 According to eyewitness report, the accident occurred at Nkwo junction at Awgu while the school bus was conveying the pupils to their various homes. There was a head on collision between the bus and the trailer coming from the left direction.



It was alleged that the driver of the trailer was struggling with his brake before running into the school bus.
There are so many casualties in the scene. It was also said that a family has lost 6 kids in the accident.
Many of them sustained serious injuries and have been conveyed to the nearby hospitals where they are receiving treatment.
May the souls of these innocent children and the teachers rest in peace.