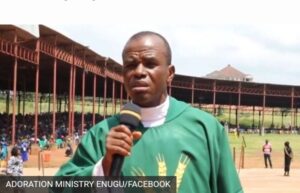 The Roman Catholic Priest, Reverend Father Ejike Mbaka has finally reacted to the ongoing ENDSARS Protests in the country. He said that SARS brutality and extra-judicial activities did not start today or during President Muhammadu Buhari's government. He said the problem and other problems that Nigerians are facing have been there before he was elected into the office.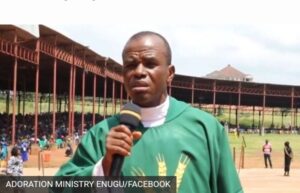 Rev. Fr. Ejike Mbaka
Fr. Mbaka said this in his Adoration ground and it was made public through the Adoration Facebook page. In his words, he said; "It has been like this from the beginning. The Buhari government did not introduce SARS brutality."




He explained further that SARS is not the problem of Nigeria that even if SARS is disbanded today, there are still very many problems facing the country. He also said that SARS has its advantages and disadvantages. He pointed at the meagre amount that is paid to the SARS as part of the problem.
"How much is the government paying them? How many of them can afford to send their children to good schools from their salaries?" Mbaka queried.
He said further that the problems of Nigerians were caused by corrupt politicians in the country. "I am ashamed of our politicians". He gave an instance with Dubai which was nothing to write home about before but now it has surpassed Nigeria in many ways. Mbaka accused the judiciaries and those supporting them for responsible for Nigeria problem.
He said that it is few people who are controlling the wealth of Nigeria and the few are embezzling the fund.
On the recent castigation with his name by some Nigerians and even his fellow Priests, Mbaka said he only says what God reveals to him. He said he will not close his mouth for fear of any.
"If God Reveals to me who will be the next President, who am I to hide it?"  Mbaka said. He added that he is working for God and not man.