Nigeria Lost For Not Having Osinbajo As President-elect – Sanusi.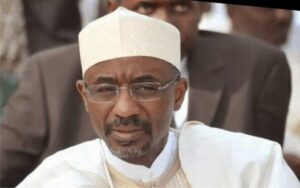 Former Emir of Kano, Muhammad Sanusi II, has stated that Nigeria lost the opportunity of having Vice President Yemi Osinbajo as the country's President. During a virtual book launch titled, "Osinbajo Strides: Defining Moments of an Innovative Leader," Sanusi expressed his belief that Osinbajo was one of the few people in the present administration who is ready to deliberate on developmental issues.
Nigeria Lost For Not Having Osinbajo As President-elect – Sanusi
Sanusi added that Nigeria would have been better off if Osinbajo had been given the chance to lead the country as President. He also expressed hope that Osinbajo would be available to serve and advise in whatever capacity he finds himself in the future, and maybe, the country will still be lucky to have him lead at some point or take up some leadership role as a statesman.
The former Governor of the Central Bank of Nigeria stated that Osinbajo is an innovative leader who is always willing to contribute to the growth and development of Nigeria. Osinbajo, who was one of the aspirants of the All Progressives Congress presidential primary, received criticism for contesting against his former boss and the now President-elect, Bola Tinubu, during the party's presidential primary.
Nigeria Lost For Not Having Osinbajo As President-elect – Sanusi
Sanusi's statement about Osinbajo has received mixed reactions from Nigerians. Some people agree with him, saying that Osinbajo is a competent leader who would have made a good President, while others feel that Sanusi's statement is just a political statement made to gain favor with Osinbajo and the APC. Despite this, Osinbajo has been praised for his exemplary leadership skills, and many hope that he will continue to contribute to the development of Nigeria in whatever capacity he finds himself.
Read More: Police Take Charge of Abia Assembly Over Plot to Impeach Speaker
It's unfortunate that his capacity as the vice-president does not allow him to exceed his limit politically. The SAN is an icon in the political affairs of the country and would continue to be.