We Are Not At War With Lagosians – Ohanaeze Ndiigbo Speaks. Leaders from the Igbo community in Lagos state, under the group Anya Ndigbo, have declared that they are not at war with the Yoruba community in the state, following incidents of ethnic profiling and violence during the recent general election. They also expressed concern that Igbo people are living in fear in the state. Chairman of the Board of Trustees of Anya Ndigbo, Dr. Uma Eleazu, led the group to meet with former Deputy National Chairman of the People's Democratic Party, Chief Olabode George, and his Lugard office in Ikoyi, Lagos. Eleazu said that fake news had been generated to target Igbo people, adding that there are people going around fomenting trouble for Igbo people. He emphasized that Igbo people are not in Lagos for war or a fight, but to earn a living and contribute to the development of the state. Eleazu pleaded with George to help spread the word that Igbo people are not at war with the Yoruba people in Lagos State, stating, "We need to douse this tension so that everyone will live in peace."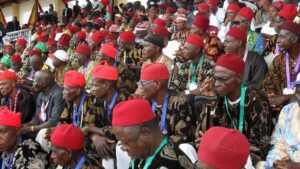 We Are Not At War With Lagosians – Ohanaeze Ndiigbo Speaks.
His words: "There is a development we noticed in the last election, it turned out to be a do-or-die affair. If you do a content analysis of the just concluded elections, the words that were used were worrisome. These are words that create fear in the minds of people. In the last election, it went beyond that. In an attempt to dissuade people from voting, we saw one ethnic nationality brought out to be antagonized and given names.
In response, Chief Olabode George criticized Mr Bayo Onanuga, the spokesperson to the President-elect, for his anti-Igbo comments and accused him of fanning the embers of ethnic war. He also announced that Lagos elders, irrespective of political affiliation, will meet to restore the Lagos culture. He lamented that the Nigerian government stopped teaching history, which he believed was a fundamental mistake, leading to the misinformation that was generated about the Igbo people during the general election. George apologized publicly for the statement by Bayo Onanuga and said that Lagos elders would work to save the culture that was.
Read More: Nigeria Lost For Not Having Osinbajo As President-elect – Sanusi
The ethnic profiling and violence in Lagos during the general election have created tensions between the Igbo and Yoruba communities in the state. The incident has sparked concern among groups who fear it could lead to further violence and even break up the country. The Anya Ndigbo group seeks to dispel rumours and misinformation about the Igbo people and promote peace and understanding between the two communities. The group is also calling on political leaders to be mindful of their statements and actions and work towards promoting peaceful coexistence among all Nigerians, irrespective of ethnic or religious differences.