The special adviser (media and publicity) to Abia State Governor-elect, Ferdinand Ekeoma has on Monday published a letter addressing the incumbent Governor, Okezie Ikpeazụ to stay clear on mentioning Otti's name in connection to the frozen state bank accounts. Frozen Accounts: Abia LP Blows Hot On Ikpeazu and His Allies.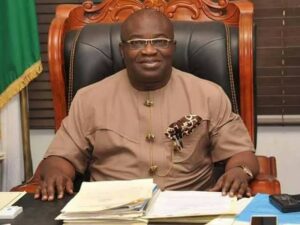 He raised alarm over the accusation of Alex Otti being the author behind the freezing of the accounts of the state in over 27 commercial banks. The letter reads;
"Our attention has been drawn to all kinds of ridiculous publications and insinuations emanating from the Abia state government, her allies, agents and Sycophants who are alleging that the Abia state Governor-Elect, Dr. Alex Otti, OFR was the one that authorised the freezing of the Accounts of Abia state government with some banks. Frozen Accounts: Abia LP Blows Hot On Ikpeazu and His Allies.
"While we would not dedicate precious time and energy educating these misguided elements and merchants of disinf ormation on the operational methodology and mechanisms of financial institutions, vis-a-vis grounds upon which a court of law can freeze the accounts of any state government, it's important to emphatically state as follows:
1.That Dr. Alex Otti was not involved, directly or indirectly in freezing the said Abia state government accounts.
He also does not know the person or persons behind the action.
2. The Abia Governor-Elect, Dr. Alex Otti is neither insensitive nor cowardly. He is not known for acting through subterfuge and thus could not have initiated such an action in secrecy, and in a manner that would affect the welfare of Abians, especially workers.
For accusing Dr. Alex Otti falsely in a bid to misrepresent him and mislead the public, the governor-elect will now get involved to get to the root of the matter, since the outcome would affect his administration which takes effect from May 29, 2023.
3. The Abia state government should be bold enough to tell the world that those they entered into fraudulent contract with and tried to shortchange before leaving office were responsible for the litigation. Is it a difficult thing for the failed Okezie Ikpeazu led-government to publish the court documents for the world to see? Frozen Accounts: Abia LP Blows Hot On Ikpeazu and His Allies.
4. Those linking the Abia Governor-Elect, Dr. Alex Otti with the legal action should know that the humongous liabilities, which include questionable debts and mountains of unpaid salary and pension arrears being left behind by the outgoing government are challenges Otti is gearing up to confront and defeat, and thus would not waste time pursuing any agenda that will not serve the interest of Ndi Abia at a time they need to heave a sigh of relief from Ikpeazu's eight years of oppressive and repressive governance.
5. The fact that the terribly troubled Okezie Ikpeazu led-government is still allowing the heartbroken mediaeval sycophant called Eze Chikamnayo to spew lies and insulting gibberish on his behalf shows that Ikpeazu is yet to learn any lesson, even in the face of the tragedy that has befallen him as a governor.
6. The infant terrible and self-acclaimed Mmiri Nshi called Eze Chikamnayo who should not have anything to do with any honest and progressive leader in this 21st century is whom governor Ikpeazu has allowed to be one of the faces of his government and drivers of his policies. This says a lot about who Ikpeazu truly is. Frozen Accounts: Abia LP Blows Hot On Ikpeazu and His Allies.
7..Finally, we call on Dr. Okezie Ikpeazu to leave Otti out of his frustrations and self-inflicted disgrace, even as we, by this release reassure Abians that Dr. Alex Otti is coming to wipe their tears through responsible governance and thus would not waste time on actions capable of negatively affecting their welfare and well-being.
"They should ignore the self-serving propaganda and misleading emotional blackmail of the failed government as they are intended to misinform and mislead unsuspecting Abians who are angry with the administration. Frozen Accounts: Abia LP Blows Hot On Ikpeazu and His Allies.
Read More: Police Seals Labour Party's State Secretariat in Imo State
Ferdinand called on the public to disregard the fake cries of the current government, assuring the good people of Abia a deserving leadership under the watch of Alex Otti, Abia's Governor-elect.