Senate President Ahmad Lawan has expressed confidence that the All Progressives Congress (APC) will win all 28 states where gubernatorial elections are currently taking place in Nigeria. Lawan, who voted in Katuzu ward, Bade LGA of Yobe state, attributed this confidence to the fact that APC controls the national assembly and currently holds the presidency. APC Will Win All 28 States – Senate President Lawan Boasts, continue reading.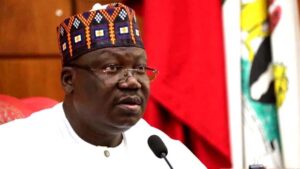 Lawan also commended the APC and President Muhammadu Buhari's administration for allowing the election process to be determined solely by the guidelines and regulations of INEC, without using the power of incumbency to influence the results. He further praised the ninth national assembly for passing an electoral act that places more emphasis on the use of technology to ensure fair and credible elections.
The governorship elections are taking place in 28 of Nigeria's 36 states, and the ruling party currently controls 21 of these states. Lawan's statement indicates the APC's confidence in their ability to retain power in these states and potentially expand their control in others. APC Will Win All 28 States – Senate President Lawan Boasts, continue reading.
So far the election across the states are over, and the results are being uploaded to the IRev for viewing. Among the states that suffered severe intimitadation are Rivers State, Lagos State, Enugu State and Ebonyi State. Dring the course of voting, several polling units sffered attcks from thugs whose intention was to cart away with the ballot box and disrupt the whole voting process.
The security agencies tired their best, despite that things went south, leavingi many people in fear as they was no form of protection provided.
Read more: Situation Report: Thugs Storm Polling Units with Daggers, Disperse Voters