From being a trader to being a banker, he became a one-time governor of Anambra State for two terms. This article shall explore Peter Obi's achievements and the setbacks he has suffered in his career and business. 
Peter Obi's Achievements and Setbacks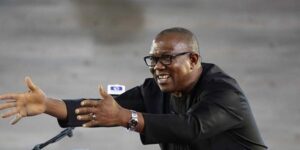 Just like any other successful person in Nigeria, Peter Obi started his life as a successful trader from Anambra. His ability to do well in commercial trading brought him to the attention of many organizations. He controlled different business positions in reputable companies across the country before venturing into politics. 
Peter Obi has held reputable positions in different companies, including Next International Limited, Fidelity Bank, Paymaster Nigeria Limited, Future View Security Limited, Guardian Express Mortgage Bank Limited, Guardian Express Bank PLC, Data Chairman of Corp Limited, Chums Nigeria, and many others.  
He decided in 2003 to utilize his business abilities in leadership. He ran for the office of governor in Anambra under the umbrella of the All Progressive Grand Alliance (APGA) political party. It was not a smooth ride due to the challenges of electoral malpractice he faced from his opponent, Chris Ngige. 
Peter never gave up, as he used the legal process to recover his stolen mandate. 
List of Peter Obi's Achievements and Setbacks as a one-time Governor of Anambra State
As the former governor of Anambra State, Peter Obi used his position to provide a lot of value that improved the quality of life for his people. Academically, he improved the quality of education in the state to the point that it was the best in the country up until now. 
1. Management of State Funds
Under Obi, Anambra State became the first state in Nigeria to start Sub-Sovereign Wealth savings, the first of its kind in Sub-Saharan Africa. At a time many other Governors were leaving huge debts, Peter Obi stated that he left the equivalent of $500 million dollars in investment in Anambra State in both local and foreign currency, including some $156 million in dollar-denominated bonds.

The Nigerian Debt Management Office (DMO) rated Anambra as the least indebted state in Nigeria. Peter Obi received praise for not borrowing to fund his projects.

The Senate of the Federal Republic of Nigeria rated Anambra State as the most financially stable state in the country during his tenure.
2. Educational Development 
Obi oversaw the return of schools to their original missionary owners with the government continuing to cater to the schools' staff salaries, while the Missions were in charge of general administration. This proved to be a super-efficient strategy as Anambra State rose from the 24th position out of 36 States to become Number One in National Examination Council (NECO) and West African Examination Council (WAEC) examinations for three consecutive years. This move made the World Bank commission a study, led by the renowned Prof. Paul Collier of Oxford University, in the state.

Obi's government procured and distributed over 30,000 computers to secondary schools in the state, including 22,500 units from HP. The Managing Director for Personal Systems Group HP Inc, Mr. Fabrice Campoy described the deployment as the biggest of such projects in the Middle East and Africa.

Peter Obi's administration provided Microsoft Academies to over 500 secondary schools, which the Head of Microsoft in Nigeria (Mr. Ken Span) described as the most extensive of such deployment in Africa so far.

His government provided Internet access to over 500 secondary schools. The CEO of Galaxy Backbone, Mr. Gerald Ilukwe described this as incomparable to any state in the country.

More than 700 buses were provided to secondary schools in the state by Obi's government. Boreholes were provided in schools all across the state. New classrooms were built in all 177 communities of the State.
3. Foreign Investments
Many Ambassadors and High Commissioners of notable countries such as the United States, Britain, Russia, the European Union, South Africa, Belgium, Israel, the Netherlands, and Canada, among others, visited the Health sector. The somehow symbiotic relationship resulted in a tremendous boost to health care in Anambra State. 
Health institutions owned by voluntary agencies and missionaries continued to offer their services while the state funded the agencies and made available to them over 50 million dollars in various types of support.
Through a partnership with the Church in the health sector, Obi's government funded the transformation of the following hospitals and health centers:
Iyienu Hospital, Ogidi

Our Lady of Lourdes Hospital, Ihiala

St Charles Borromeo Hospital, Onitsha

Holy Rosary Hospital, Waterside, Onitsha

St. Joseph Hospital, Adazi-Nnukwu.
Obi's government also built the Joseph Nwilo Heart Centre in St. Joseph, Adazi-Nnukwu, where heart operations are now being performed.

Obi's government won the Bill and Melinda Gates Foundation's $1 million grant as the best-performing state in immunization in the South East.  Obi's administration conceived and built, from the scratch, the first state-owned Teaching Hospital, Chukwuemeka Odumegwu-Ojukwu Teaching Hospital, Awka.

By the end of his tenure in 2014, more than twelve (12) health institutions, including two hospitals, had secured accreditation. Before Obi's takeoff in 2006, no health institution in Anambra State was duly accredited.
5. Economy
Obi's government invited some companies to build their facilities in Anambra State. A case in point is SABMiller, the second-largest brewery in the world, which built its first greenfield facility in the state.
A number of other companies followed the SABMiller initiative and were all supported and encouraged by Obi's government; an example is the INNOSON Motor Manufacturing Company, from which Obi's government purchased over 1,000 vehicles for government use.
During Obi's tenure, Anambra State became an oil-producing state, thereby increasing the state's internally generated revenue. Peter Obi ensured that the state never borrowed money. 
6. Security
Under Obi, Anambra State for the first time started close collaboration with all government security agencies (the Police, Army, Navy, Department of State Security, and Civil Defence, among others), offering them various types of support including the supply of more than 500 security vehicles. The improvement in security was phenomenal, such that the former IG of Police, Abubakar Mohammed, lauded Anambra State for not witnessing any bank robbery in the last three years of Obi's administration.

During his tenure, Anambra State provided at least one security vehicle to each of the 177 communities in the State as well as various organizations such as markets and churches.

Obi revamped the local vigilante system so community vigilante groups were working directly with the police and were closely monitored.
7. Youth and Employment
 Obi revitalized the Anambra State Youth Re-Orientation & Empowerment Programme (ANSYREP) which provided training and grants to young and aspiring entrepreneurs.

His Youth Employment Fund initiative boosted job creation and also helped many young businesses thrive. 

Obi's government was the first to do Poverty Mapping in Nigeria, as a guide for the effective implementation of the state's poverty-alleviation strategies.

Obi was the first governor to undergo a national peer review that scrutinized state government for good governance through the State Peer Review Mechanism (SPRM), an initiative of the Nigerian Governors' Forum in collaboration with the DFID.
8. Infrastructure
Obi's government undertook a massive construction of internal roads and oversaw large-scale electrification projects all over the state.

iObi built the first Secretariat Complex to house State Government Ministries that were hitherto scattered around the State.

Obi's administration started the planned development of the Igbariam Campus of the Chukwuemeka Odumegwu-Ojukwu University, including the construction of other facilities such as the school's Faculty of Law, Auditorium, Administrative Block, Faculty of Agriculture, Management Building, etc.

Obi's government attracted the World Bank's support on erosion – National Erosion and Watershed Management Project (NEWMAP) – to Anambra State.
9. Introduction of ANIDS
Peter Obi introduced the first-of-its-kind multi-sector development model called Anambra Integrated Development Strategy (ANIDS) which had a tremendous impact on virtually all sectors of the state, from education and industry to infrastructure and health.
Peter Obi's Achievements and Setbacks; His Major Setbacks
In as much as we have discussed his achievements as a one-time governor of Anambra State, we shall also be looking into the obvious setbacks that have befallen him in his political career, in particular. Peter Obi's achievements and setbacks are serving as motivation for the coming generations of politicians, which are the youth. Below are some of the setbacks he has suffered in the course of his political career up until this day.
Read More: 2023 Elections: Yorubas Allege Plot By the Igbos to Take Over Southwest
Peter Obi was elected governor of Anambra on March 17, 2006. He was impeached 8 months after on November 2, 2006, by the State House of Assembly. Obi would later reveal that one of the reasons he was impeached was his refusal to inflate the government's yearly budget.
His impeachment was overturned on February 9, 2007, and he was reinstated as governor. By this time, he had only a few months left to stay in office, as the majority of his tenure had been stolen by Chris Ngige, who had been governor for three years before a court declared that Obi was the rightful winner of the 2003 election.
Obi was reappointed governor of Anambra State on June 14, 2007, after a court ruled that he should be allowed to complete his four years in office. The tenure ended in 2010, and he won his re-election campaign and served an additional term. He finally handed it over to Willie Obiano in 2014.
In May 2022, Peter suffered intimidation in his party, the PDP, as a result of corrupt politicians who were so desperate to be the flag bearer of the party. As the principled man he has always been, Peter dumped the party and joined the Labour Party for the sake of his presidential ambition. 
In February 2023, during the conduct of the presidential elections, Peter Obi's supporters suffered voter intimidation across various parts of the country, which became a major setback to his presidential ambition. This enabled the corrupt politicians to rig the election effectively against him.