Who is Pop Smoke – Biography, Age, Net worth, Death and Career?
Bashar Barakah Jackson, better known as Pop Smoke, was an American rapper. Pop Smoke, who was born and raised in Canarsie, Brooklyn, launched his musical career in late 2018 with his debut single "MPR." Pop Smoke rose to prominence in 2019 with the release of his breakout singles "Welcome to the Party" and "Dior." Read also about Robert Sheenan's Biography and Net worth, Age, Awards, Family, Relationship Status.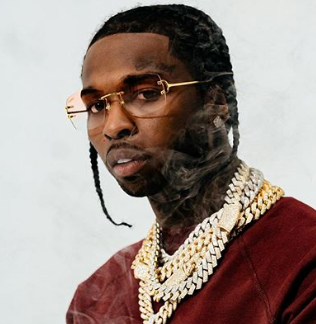 Pop Smoke's Early Life
Pop Smoke was born on July 20, 1999, his untimely death occured on February 19, 2020, when he was 20 years old. In the Canarsie neighborhood of Brooklyn, New York, he was born and raised in a Christian upper middle-class family. He was highly recognized for being a Christian and an American citizen. He finished his primary schooling in Brooklyn, New York, at nine different schools.
He was expelled from his school when he was only in the eighth grade for bringing a gun to class. He later completes a two-year house arrest sentence as retribution for his wrongdoing. He then moved to Philadelphia and enrolled himself at Rocktop Academy; however, he was ultimately forced to leave school after being diagnosed with a heart murmur. After starting to play basketball, he entered the criminal underground.
Who is Pop Smoke – Biography, Age, Net worth, Death and Career
Pop Smoke: Family, Girlfriend & Relationships
Pop Smoke's Father's name is Greg Jackson, a businessman. Pop Smoke's mother is named Audrey Jackson, a homemaker.
What was Pop Smoke Marital Status before his death? There is no information regarding any of his prior relationships, and he was only 20 years old when he lost his life.
Physical Appearance
Pop Smoke was a bright, good-looking young man with a dapper and endearing demeanor. He had an excellent body, a super-strong build, and a lean muscular body type.
He was approximately 68kg in weight and 5 feet, 10 inches tall. He had stunning, long, black hair that was shining, as well as stunning eyes that were a scorching dark brown in color.
READ THE BEST OF OUR POSTS:
Pop Smoke's Career
Pop Smoke started working as a rapper and vocalist in the year 2018. He went to a Brooklyn recording studio with renowned rapper Jay Gwuapo, but Gwuapo passed out from drug use, so Pop tried rapping for the first time and recorded his debut single, Mopar, using the beat from 808 Melo's YouTube channel.
After being signed by Universal Music's Victor Victor Worldwide in the year 2019, he eventually launched his debut breakthrough hit, Welcome to the Party. Later, two remixes of this song featuring Nicki Minaj and Skepta were also made available. Who is Pop Smoke – Biography, Age, Net worth, Death and Career.
He released a mixtape called Meet the Woo 2 in 2020, which set numerous records for the American music industry. A deluxe version with three extra songs was published five days after the original one.
Shoot for the Stars, Aim for the Moon, his debut album, was also a huge hit when it was published in the year 2020. There were numerous well-known performers on the album's song Make It Rain, including Rowdy Rebel and others. Later, a special 21st birthday edition of this album with 15 brand-new additional tracks was made available in Pop Smoke's honor.
Who is Pop Smoke – Biography, Age, Net worth, Death and Career
Controversies About Pop Smoke
Pop Smoke caused a commotion on January 17, 2020, when he was stopped by authorities at the international airport as he was boarding a flight for a tour. He was accused of stealing a $375,000 Rolls Royce from a man in California when he rented the car for a day but didn't return it on time, according to reports.
The car was found at his mother's home in Brooklyn's Canarsie neighborhood a few days after his detention. The cops tried to question him about the Crips, but he refused. He was forced to post a $250,000 bail as retribution and make a vow to stay away from known Crips gang members.
Who is Pop Smoke – Biography, Age, Net worth, Death and Career
Pop Smoke Net Worth
Pop Smoke had a net worth of almost $2 million prior to his passing. He primarily made money through his music albums and live performances.
Social Media
The adolescent rapper has an active online presence and can be found using the identities @popsmoke10 and @realpopsmoke, respectively, on Twitter and Instagram.
Before joining Twitter in May 2019, the late rapper published 48 posts and gathered more than 3.7 million followers. Moreover, the rapper has more than 302,5k Instagram followers.
Who is Pop Smoke?
In 2019, the late rapper gained notoriety after releasing his breakthrough song, Welcome to the Party. After his ascent to stardom, Steven Victor was first introduced to him by Rico Beats in April 2019.
Later, Victor had him sign a recording deal with "Republic Records" and "Victor Worldwide." Who is Pop Smoke – Biography, Age, Net worth, Death and Career.
"Meet the Woo", the deceased rapper's debut mixtape was released in July 2019. Then, he issued Meet the Woo 2, his second mixtape, on February 7, 2020. His second mixtape debuted at number seven on the Billboard 200 and went on to become the rapper's first top-10 hit in the nation.
Less than two weeks after the mixtape's release, the late rapper passed away as a consequence of a home invasion in Los Angeles. His posthumous studio debut album was executive produced by fellow rapper 50 Cent.
This album, called Shoot for the Stars, Aim for the Moon, was released on July 3, 2020, by 50 Cent.
This album also made its Billboard 200 debut at the top. All 19 songs on the album are featured on the Billboard Hot 100 chart. Additionally, this album generated several top-10 hits in several countries.
About Pop Smoke's Death
What killed Pop Smoke?  He was shot inside his house. He died on February 19, 2020, after being shot dead inside a house in Hollywood Hills, California, by four masked men. Who is Pop Smoke – Biography, Age, Net worth, Death and Career
According to the official statements, four men who broke into his house shot him twice in the chest. Following the incident, he was taken to the nearest hospital, where after many hours of exams by medical professionals, he was declared dead.
Green-Wood Cemetery served as his final resting place. After a short while, three adult men and two children were arrested for his murder. Government statements claim that Pop Smoke's death was related to his involvement with the Crips, a group founded on drug trafficking
It was gathered that Pop Smoke was shot dead by intruders when he was hanging out with Mike Dee, a friend and brother. Dee was hanging out with Pop Smoke when he was killed but before that, the duo had already spent a quite reasonable amount of time together during the day.
Who is Pop Smoke – Biography, Age, Net worth, Death and Career
Mike claims… "My heart, my dogs—I just lost my f***ing brother. You folks lack any compassion or common sense! I would never in my life set up my brother, yet you guys come on here and act like detectives while attacking me online."He ends by saying, "Just know I got you forever brother the truth will come to light till then sleep in peace," as a message to Pop.
According to sources acquainted with the security footage, the video shows at least four hooded, masked males entering the home just 10 minutes after residents deadbolted the front doors shut. They allegedly failed to activate the home alarm, which made it simpler for the intruders to enter. And then there's this. The home's address was published by Pop Smoke earlier in the day.
One of the goodie bags he was displaying included the address of the house. As for the reason he was receiving gifts, his mix tape debuted at position #7 on the Billboard 200 chart on Tuesday.
Prior to the shooting, according to sources within law enforcement, there was a party or other gathering at the home. What motivated the shooters to enter the house is still unknown.
The house is owned by Teddi Mellencamp of "RHOBH" and her spouse Edwin Arroyave, who has a number of residences in Los Angeles. Pop Smoke might have been leasing the home. Up-and-coming rapper Pop Smoke was shot and died early on Wednesday in what seems to be a home invasion robbery, according to information obtained by TMZ.
Who is Pop Smoke – Biography, Age, Net worth, Death and Career
According to law enforcement sources, the rapper was at a property in the Hollywood Hills when two individuals wearing hoodies and masks broke into a house at around 4:30 AM. According to reports, the two men fired several shots, hitting Pop Smoke and gravely injuring him. The men could be seen running off on foot. Pop Smoke was taken to Cedars-Sinai Medical Center in West Hollywood by ambulance, where he was later declared dead.
As far as we know, neither the suspects' identities nor whereabouts has been revealed. If Pop Smoke knew the shooters, no one knows. One man was handcuffed but was later freed after police found he was not involved.
In April 2019, Pop Smoke released an album, and one of the songs, "Welcome to the Party," went viral and became widely regarded as the summer's top tune. A few months later, Nicki Minaj produced a remix of the song. He collaborated with Travis Scott on the song "Gatti." Nicki Minaj recently released a comment regarding his passing at 7:08 AM PT. "According to the Bible, jealousy is as horrible as death. Unbelievable. Peace be with you, Pop."
Frequently Asked Questions
1. What is Pop Smoke's Real name?
Pop Smoke, Bashar Barakah Jackson's stage name, was well-known.
2. When was Pop smoke born?
Pop smoke was born on July 20, 1999,.
3. When did Pop Smoke Die?
On February 19, 2020, Pop Smoke passed away.
4. How did Pop smoke die?
A house invasion in Los Angeles claimed the life of Pop Smoke less than two weeks after the mixtape's release.