How Boy Killed his Father in Ezinifite Town for Corn
Ezinifite town in Anambra state witnessed an abomination this Monday afternoon, 12th July 2021 as a boy yet-to-be identified by his real name, killed his father with a machete over a disagreement on new corn. How a Boy Killed his Father in Ezinifite Town for Corn.



According to eyewitnesses, the said boy came back and went into his father's farm in the compound and made to cut new corns from the farm. His father rushed into the farm with a Machete and threatened to cut off his hand if he dared pluck out any of the new corn.
The boy thought it was an empty threat and went ahead to cut corn from a corn stalk. His father did as he promised. He used the machete and gave the boy a hard cut.
Out of anger, the boy snatched the machete from his father and cut him back. Unfortunately, he hit him in the wrong place, he slumped and bled to death.
People who were around the scene raised alarm and the youths of the Ezinifite community gathered. The boy was held to avoid him escaping. He was tied with a rope and laid beside the corpse of his father.
The matter was reported to the Police and in a short time, they arrived at the scene. Both the boy and his father were put at the back of the Hilux and taken to the Police station for further investigation.
He killed his father just like that. What is corn kwanu!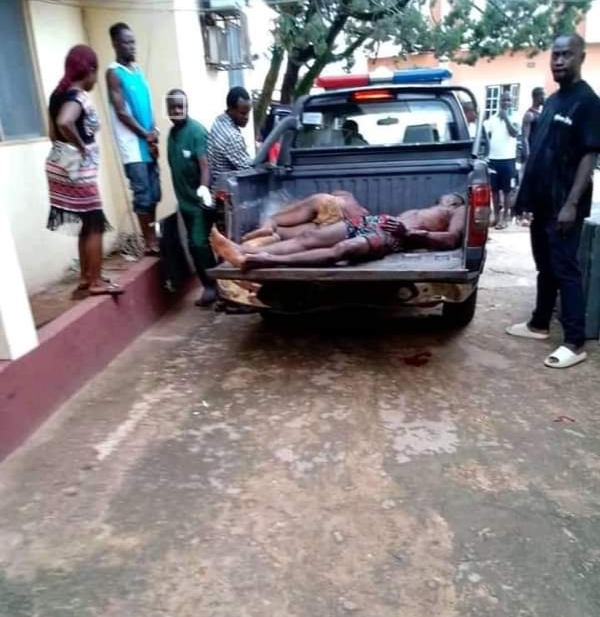 How a Boy Killed his Father in Ezinifite Town for Corn.
Ezinifite town is one of the ten towns in the Nnewi South Local Government area in Anambra state. It is the hometown of the late Oliver De Coque and Godwin Agabsimelo aka Oga ndi Oga, the Igbo billionaire who ordered trailers full of rice for the masses during the Covid-19 lockdown.
You can read how DPO and his Assistant in Ezinifite Police Station were killed by bandits during the ENDSARS Protest in 2020.
The town shares common boundaries with Ukpor, Ebenator, Utuh, and Osumenyi, all in Nnewi South Local Government Area. Recall too that recently, Ezinifite and Osumenyi went into battle over the killing of an Osumenyi youth, Chimezie Ezike by the Ezinifite Youths.
Meanwhile, at the time of this report, no official statement has been made by the security personnel over the careless murder of a father by his son. People who know the family is pointing at the effect of the hard drug known as Mkpuru Mmiri.
However, 9jainformed.com has not authoritatively confirmed from the right source whether the boy or the dead father was under the influence of Mkpuru Mmiri- Meth, as people alleged. We will keep you updated.
Follow us here. SUBSCRIBE to our Notification to get news alerts when we publish new posts.