Dr Dozie Ikedife's Death – Why was He not given Befitting burial?
In our post today we want to discuss an important personality in Nigeria. He was a great figure; an icon in medicine. He is no other than Dr Dozie Ikedife aka Ikenga Nnewi. Dr Dozie Ikedife's Death – Why was He not given Befitting burial?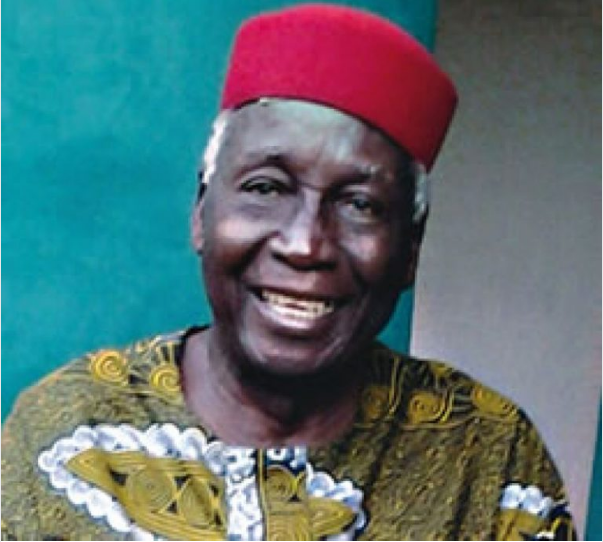 Why was Ikedife not given a befitting burial? Many users had sought an answer to this query, thus 9jainformed noticed it and decided to make an article that would provide an accurate and truthful answer.  Before I proceed let me give a brief biography of Dozie Ikedife.
Who is Dozie Ikedife?
Dr Dozie Ikedife was a household name in the East. He owns a popular specialist Hospital in his hometown Nnewi which he named after his own name "Ikedife Specialist Hospital".
Apart from his popularity in medicine, he was known for his staunch belief in the worship of Animism. He was a traditionalist and head of "Ndi obu ofo" (Traditional Religion).
However, few days before his death, he converted to the Christian religion. Not only that, he renounced his traditional beliefs and his Ozo title and was baptized.
Dozie Ikedife (a Nigerian gynaecologist) was born on the 24th of August 1930 to the family of Dunu-Ifeneti Ikedife Dunu-Ugochukwu and Ejeagha Ikedife. He obtained two bachelor degrees from the University of London and the University of Glasgow, Scotland.
The first was Bachelor of Science in 1958, and the second, Bachelor of Medicine and Surgery in 1959, respectively.
He also got his doctorate degree in Public Administration from World University, Tucson, in 1983. Before his death, Dozie Ikedife was a member of Nnewi Royal Cabinet and also the co-founder of confidence Newspapers Ltd, Nnewi.
Dozie Ikedife's achievements before death
Before his death, he was the longest practising gynaecologist in Nigeria. In 1991 he established an Annual Medal and prize for the Best Graduating Medical Student in Nnamdi Azikiwe University Awka.
He was given his first Chieftaincy title in 1980 and was later awarded another chieftaincy title (Ikenga Nnewi) in the year 1981 by the royal cabinet of Nnewi.
Apart from his chieftaincy titles, he was also the secretary of the body of presidential liaison officers which made him close to the president at that time because the chairman of the body was from the same state as the president.
Dr Dozie Ikedife was a great man so he still has lots and lots of achievements but to save your time let us go to the main purpose of this article.
Dr Dozie Ikedife's Death – Why was He not given Befitting burial?
Dozie Ikedife was a great man while alive so everyone expected a grand burial that will attract important people to the world but that was not the case. He was rather buried like a nobody. This will leave us with the question why? A great man likes Ikedife buried without it making waves! why should that be? Here is why.
He wrote a message before he died describing how he wanted to be buried and how he wanted his funeral to be conducted. Here is what he said:
"For me, a befitting burial is when you are sure I am dead, dig six feet, wrap me in the ground and cover it. I will not be celebrated when I die. I don't want a funeral. Once am dead, put me in the grave and go away. Don't come for a condolence visit.

Don't come to the funeral ceremony. I don't want it; is it of any use to me, a dead person? You are just wasting your time and giving yourself the trouble. If you invite the whole of Nigeria, it doesn't mean anything to me.

If you invite 10 people, it doesn't mean anything to me. if you fire 100 gunshots, it means nothing to me. People waste energy and sometimes, money; sometimes, they borrow or sell things to give somebody what they call a befitting burial. I don't need it."
These were the words of Dr Dozie Ikedife and as expected his family obeyed his wishes and made the burial as secret as possible to the extent that many people still don't know he has been buried.
When did Dr Ikedife die?
The great Dr Ikedife kicked the bucket about 2 years ago. He died on December 12, 2018, at the age of 88 (1930 – 2018).
He was buried within 24hrs of his death. His great while still alive is something that can't be forgotten in a rush.
Ikedife was a legend. May his soul rest in peace (Amen).
Dr Dozie Ikedife's Death – Why was He not given Befitting burial?
In summary, Dr Dozie Ikedife, the CMD of Ikedife hospital death was not known by many. In fact, people still think he is alive.
Information by an insider revealed that part of the reason why he chose not to be given a befitting burial was as a result of the new faith he found in Christianity. He made a resolute to go to His Maker quietly and prefered not to be given a befitting funeral.
From what he said before he died, he said he regretted the lives he lived outside Christianity. He also regretted his friends who had died before him who were not opportune to receive Christ.
9jainformed.com gathered too that Dr Ikedife used his few days on earth for evangelism. He was always telling people who came closer to him that there is great light in the new faith he found (Christ).
Thanks for reading from us. Please, share and like our post.
SUBSCRIBE to our Notification to always get a new post alert anytime we publish new posts.