5 Facts about Stanley Nnaji who was Killed by Gunmen at Ebeano Tunnel
Enugu metropolis was somehow at standstill a few days ago when the video of a man who was killed by suspected gunmen along Ebeano Tunnel trended on the internet. Former Chief Judge of Federal High Court, Enugu, was the victim of the attack. Here are 5 facts about Stanley Nnaji who was killed by gunmen at Ebeano Tunnel, in Enugu.



The man who was shot and killed by the unknown gunmen along Ebeano tunnel in Enugu at about 5 pm on Sunday evening being 30th May 2021 is Justice Stanley Nnaji. He is an indigene of Mbu in Isi-Uzo Local Government Area of Enugu state.
From the video, his assailants trailed him with a red car and double-crossed him beside the Enugu Diagnostics Centre by Ebeano tunnel. Justice Stanley was dragged out of his Black Mercedez Benz Jeep and shot severally at his back on a close range.
These are the 5 things people are talking about Him:



He was a lawyer by profession. He rose to the position of Chief Judge. He was once a Chief judge; a former judge at Federal High Court Enugu, till 2007.
He gave Injunction for the Arrest of Dr. Chris Ngige in 2004
According to data, the late Justice Stanley Nnaji was the Chief Judge who presided over the case of Sen. Chris Ngige and Uba when he was the governor of Anambra State. It was by his order that the then Inspector General of Police, IGP, arrested Ngige as a Governor in 2004.



He ruled the case against Chris Ngige following his removal as the ruling governor of Anambra State in 2004.
He was dismissed as a  Chief Judge, Federal High Court, Enugu
According to a reliable source who is also a member of the Nigeria Judiciary, Justice Stanly Nnaji is no longer a member of the Nigeria Judiciary. He was dismissed as a judge.
This information was revealed shortly after Justice Stanley Nnaji was shot and confirmed dead. The person who made this revelation did it because when he was shot no one could identify him.
See the screenshot of the man revealed about him when the photo of his corpse went viral on social media.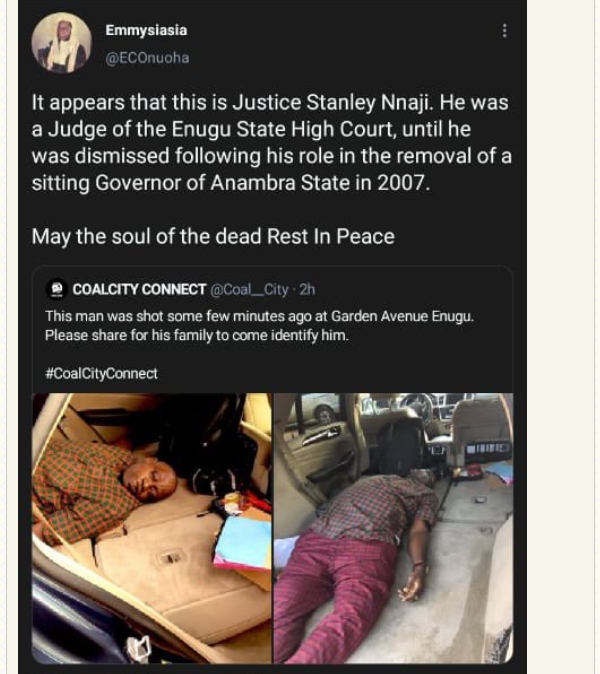 5 Facts about Stanley Nnaji who was Killed by Gunmen at Ebeano Tunnel
Nnoruka Udechukwu filed a petition that led to his dismissal
Justice Stanley Nnaji served as a Chief Judge in Enugu High Court till 2007. He was sacked by the (NJC) because a petition was filed against him by Nnoruka Udechukwu, the then Attorney-General and Commissioner for justice.
His controversial verdicts that removed Dr. Chris Ngige out of the office as the Governor of Anambra State in 2004 came back to haunt him 3 years later.
Nnoruka accused Justice Stanley Nnaji of wrongly assuming jurisdiction in the case that sacked Dr. Ngige as governor of Anambra state. He was dismissed by the Nigeria Judiciary Council (NJC).
His Assailants are yet unknown
Following the attack and the murder of Justice Stanley Nnaji in Enugu Metropolis in broad daylight, the Commissioner of Police has ordered for swift investigation and manhunt to bring to book the killers of the High Court ex-Chief Judge.
However, his killers still remained unknown.



 Summary on 5 Facts about Stanley Nnaji who was Killed by Gunmen at Ebeano Tunnel
9jainformed.com will keep you updated on the latest developments around the globe. Subscribe to our notification to get notified whenever we publish new posts.
Please, share.