Umuaka Highway, Life No Balance, and Another banger Slang; See their meaning
Let's talk about meaning these 3 popular Nigerian slangs "Umuaka Highway" "Life no balance" and "Another Banger meaning". They are among the popular slang in Nigeria like "cut soap for me or who cut soap for you" that people use often. They mean different things.



I shall discuss them one after another. You need to know the meanings of "Life no balance" Umuaka highway", and Another Banger" and why people use them.
People often mention this popular slang in their everyday conversations without even knowing their meanings. These slangs originated from different people and share different meanings.
I shall discuss these slang one after another. I will also include their meanings and the originators.
What is the Meaning of Umuaka Highway?
Umuaka Highway is a song and also slang. It was a song done by Phyno and it is now regularly used by people.
Originally, Umuaka highway is a derogatory word. It was used to refer to "core girls who stand on the roadsides. It is also used to refer to highway robbers or hardened criminals.
The word Umuaka simply means little Children. Put the words together, it means, Little children on the Highway. However, it does not refer to little children in the real sense.



There is a bit of difference between Children and little children in the Igbo language. Just like "Umuaka Obiakpo" slang which refers to a hard-hearted group of people, the set of people that know no mercy.
Umuaka does not imply its literary meaning in the sentence. It is used to denote a set of people and not little children.
Umuaka Highway" "Life No Balance" and "Another Banger" Meaning
The Originator of Umuaka Highway
Umuaka highway has been existing as hyperbole or Slang. People, especially the elderly use the words to refer to highway robbers or runs girls who stand on the road.
However, DJ Kaywise and Phyno made this slang popular when they sang it in "Highway". It was used in his song to mean a different thing altogether. According to the Lyrics of the song, Umuaka Highway is meant to refer to higher achievers. He is referring to people who have made it great.



Let's see the "Highway" lyrics as sang by Phyno:
"Phyno onye highway
Kaywise highway
Umuaka high way
Chelum na highway
Owam na highway
Nchubia na highway
Men choba okporo abanye highway".
Umuaka Highway can also mean men of highway or guys of the highway. The highway is the highest road track and anyone who applies the track must have mastered driving. The person too must be ready to speed.



In line 4, Phyno refers to Umuaka Highway to wait for him on the Highway. Line 5 points to his Car "Owam". Owa is an Igbo slang for exotic cars. So, he was saying his car his on the Highway.
In lines 6 and 7, he also portrays the need for men to be on the Highway. "Everyone, look for track and enter highway".
Umuaka highways are those who have made it; the group who are operating on a higher level. Highways are not road tracks for running slow, it is for fast movement. So, anyone on this track is considered moving, running, and speeding.
In a nutshell, the people who have made it big and still going are considered Umuaka highway. Being on the Highway, they are always on the move and the Highway track is not for Lilly-livered.
"Umuaka Highway" "Life No Balance" and "Another Banger" Meaning
Life No Balance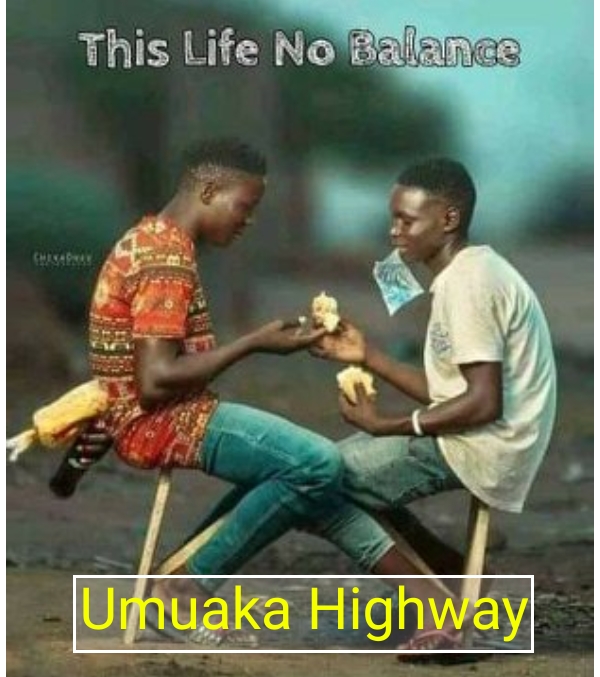 This is among the popular slang that has been trending since last year in Nigeria. Today, people still use it in their everyday conversations.
Life no balance is a pidgin Engish words that has a direct meaning. It means; life is not fair.
The slang is used to portray the unfairness of life or nature towards humans while it favors the other. Like; the other day I was watching two friends who bought Walnuts and were playing the "knock and crack" game with them.
You know that game children play when they buy walnuts or Guinea fowl eggs. If yours cracks first, you will hand it over to your friend to eat.
These two friends were holding the Walnuts with their fingers and knocking them together. Any of them who cracked the walnut first with his own would have to collect both walnuts.



I noticed they were holding 4 walnuts each. But for each knock and crack game, it was one particular friend who won. He won up to the third time and took the three walnuts from his friend.
However, the other person was able to crack the last walnut on his friend's hands. Guess what?
He opened the two walnuts; they were spoilt. "This life no balance at all, at all".
Life no balance here in the real sense because if it is balanced, it would have considered the person with just 2 walnuts. But it didn't.
It allowed the person with six walnuts to have them all good while the other was left with none.
Life no balance is also used when describing a pitiable situation or an unfair situation. It is used to portray the uncontrollable cruelty of nature or life to man.
Umuaka Highway" Life No Balance and "Another Banger" Meaning
Originator of Life no balance
To the best of my knowledge, people have always used these words but not exactly this way. We have been saying life is not fair and have been saying it too in pidgin English.



However, not as it is being put now. This new version began to trend late last year and became even more popular when Nigerian musicians began to sing with it.
Life no balance has made many news headlines and hit albums. Music artists like Ola Don and Mr. Gbafun released hits with the slang.
"Another Banger" Meaning
Another Banger is a words use to describe or announce a new music album or song release. It is just about the "banger" in the phrase.
Banger is just a word for Knockout; an explosive stick that makes a loud or banging noise when ignited. A knockout makes a Bang sound hence the name banger.



In order words, a banger is something that makes a loud or banging sound. It is also something that makes a remarkable sound.  So, when you hear, another banger, it means another loud one or another remarkable one.
It has become a norm recently to use the words; "Another banger" whenever an artist releases a new song. If the government makes a strong policy that will affect citizens negatively, people do share it on social media using, "another banger".
If Nnamdi Kanu a fresh revelation about Aso Rock, "Another Banger". Or, if Davido releases a hit overnight, "Another banger!"



The Summary on Umuaka Highway, Life No Balance, and Another banger Slang
Umuka Highway, Life No balance, and Another Banger are popular slangs that are trending now in Nigeria. Before you use them again, check here for their meanings to know if you are using them rightly.
Umuaka Highway means so many things but it points on the road to achieving greatness. Also, in life no balance, life truly has its own fair shares for many. Sometimes, it comes as a banger.