Shock as Deadman Paul Mutuora calls for Help inside Mortuary (VIDEO)
Shock as a Deadman Paul Mutuora calls for Help inside a Mortuary (VIDEO). Watch the shocking video moment when Mortuary Attendants were thrown in Confusion as Man woke from death inside the morgue.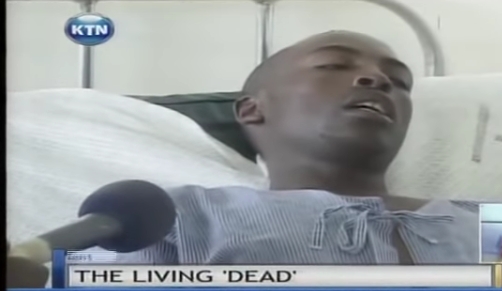 A native of Naivasha, Paul Mutuora, has thrown Mortuary attendants into confusion when he woke up from the mortuary where his corpse was deposited. The people were in shock as the corpse woke up among the dead in the Naivasha morgue and was calling for help.



The young was brought to a hospital after he fell sick. He was managed by the hospital doctors but he died due to the severity of damage done to his body system. The hospital pronounced him dead.
Read the News about How the Nose, Forehead, and toes of a Patient who died in the hospital Disappeared
So, hours later, he was moved to the mortuary situated in the hospital and the family left. The following day, people started hearing uproar from the Morgue. The mortuary attendants were seen running helter scatter. Some jumped out from the windows and were pointing in the direction of the deads in the morgue.



It was later revealed that a corpse among the dead was calling for help. When the people when closer to peep, they saw the Naivasha man trying to sit-up on his mat, calling for help.
The family of the young man was contacted and they returned to the morgue.
Shock as Deadman Paul Mutuora calls for Help inside Mortuary (VIDEO)
What Really Happened
According to the story, The young man who woke from death had an argument with his father, Mr. James, the previous day. In the morning, he was seen lying lifeless in his room.

Paul's Father (briefing the media)
He was taken to the hospital and he was resuscitated. He was been managed until his health deteriorated again and he died. The hospital suspected he had ingested poisonous substances.
He was certified dead and moved into the mortuary the next morning. The hospital expressed shock over the new development and has readmitted him to resume treatments.



The medical personnel of the hospital, speaking on the strange occurrence said the young man is out of danger. He gave hope of his recovery.
The young man who was pronounced dead and deposited in the mortuary was seen speaking to the media. He was describing his death experience. He is now addressed as "the living dead".