What happens when you sleep on the left side?
In our post today, we shall be talking about the best sleeping position. Some people don't know there is the best sleeping position. LEFT SIDE OR RIGHT SIDE? Before You Sleep on any Side again, read this. What happens when you sleep on the left side?
Apart from the right side or the left side, there are other sleeping positions like lying with your tummy on the floor, lying with your face up. These sleeping positions may be convenient for some people but they have its own side effects too.
For example, lying with face-up does not aid digestion. The food may regurgitate while sleeping and go the wrong way. I have seen many people jerking up from their sleeping and coughing uncontrollably because the food came up and wanting to choke them.
That is not what we are here for by the way. We are here for what happens when you sleep on your left side.
Everyone has a favorite side on which the person is always sleeping. It is either on the left side or on the right side. But before you lie on that favorite side again, make sure you read this information to the end.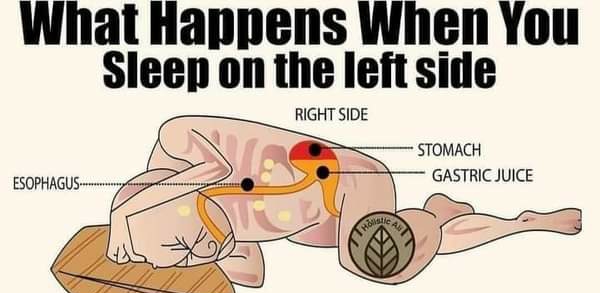 There are important human organs and functions that are always considered when we lie down. They are the stomach, the heart, esophagus, and gastric juice.
When you sleep on your right side, the stomach and its gastric juices remain higher than the esophagus thereby causing heartburn and digestive upset.
YOU MAY READ:
See what happens to your body when you sleep with your left side.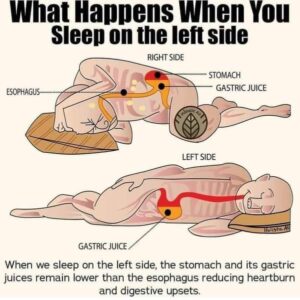 It has been proved that the left side is the best side to lie on when sleeping. It was also taught by Prophet Mohammed.
Meanwhile, some medical experts have debunked the teaching and the belief, pointing out that the heart tilts to the left side. They said when we sleep on our left side, we are pressing on our hearts.