The US final election results are yet to be collated but from the results collated so far, Joe Biden is sitting at a great advantage against the candidate of Republican and the incumbent president, Donald Trump.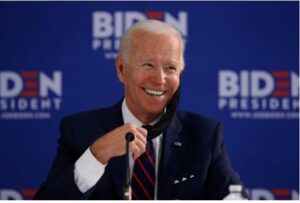 It is also true that Trump is winning in many States but most of those states have smaller populations. Joe Biden has been smashing the votes in States with larger populations like in California, which is the most populous state in America. This is the reason why Trump has more States wins but with lesser popular votes count.




Second, there are two things which determine election victory in America; the popular votes and the college votes which is known as the electoral votes. Each state has a number for college members who should cast their votes. But the larger a state is, the greater the number of electoral votes in that state.
Joe Biden also leads in electoral votes because the states with a high population where he has won popular votes also have a higher number of college voters.
From the total votes cast and collated so far, Joe Biden leads with 50.3% while Trump still lingers at 48.7%. I doubt if the remaining States will do the magic in favor of Donald Trump. We keep our fingers crossed.