Hacked Banks Alert
For the past few days in Nigeria, the word "hacked" has been trending. A group of people parading themselves as anonymous has claimed to be responsible for the hacking of public sites and some political office holders in the countries. The top in the lists is the release of some senators' phone numbers and MTN multiplier code.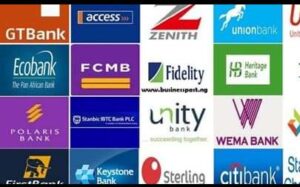 They are have claimed responsibility for hacking different entities, banks inclusive. Recently, they claimed they have hacked some banks in Nigeria and promised to be generous by crediting the account of many Nigerian bank account holders.
Click here to watch the video and read the News of the Pastor who was stripped naked by Angry Youth for Sleeping with 3 daughters and killing 8 own Children.
Activities of the Anonymous Hackers
If you have an account with any of the Commercial banks in Nigeria, read carefully and thread cautiously. You should be careful so that the hunter will not become haunted. I mean you should not be trapped with the promised of crediting your account with the hacked money and at the end of the day, you will be hacked.



See screenshot of the rumor below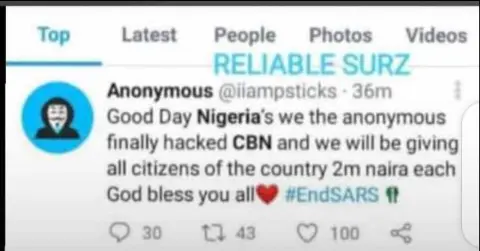 Please if you have a BVN with any of these banks, this important message is for you, please read carefully and share it with others too. to avoid falling victims to scammers.
This group of "anonymous Hackers" are circulating messages on the internet and their patriots are helping it go viral. The message reads that some anonymous hackers have allegedly promised to credit all GT, first banks, zenith banks, access banks, and other bank accounts with the sum of 2million naira.
This is very untrue. This cannot be possible. I want to plead with all those who have a bank account with any Nigerian banks, not to send their account details or bank verified number (BVN) to anybody, or an account on Twitter, as this is another way to scam some greedy people.



Again, this claim is controversial. The "Anonymous Hackers" have debunked this information via Twitter that they cannot hack banks. Like I said earlier, bank fraud has been in existence before the emergence of the "Anonymous Hackers". The fraudulent individuals will pick on this opportunity to dupe people of their hard-earned money.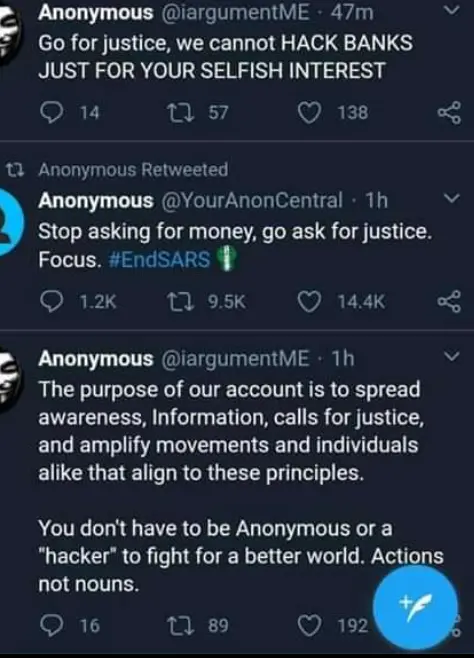 In one of the tweets released earlier, today;  The Anonymous hackers say:
"Go for Justice. WE cannot hack banks just for your selfish interest. Stop asking for money. Go ask for justice. Focus. #ENDSARS.
The purpose of our account is to spread awareness, information calls for justice, and amplify movements and individuals alike that align to these principles.
You don't have to be an Anonymous or a Hacker to fight for a better world. Actions, not Nouns."



I don't know why most Nigerian youths want to fall victim to scammer because of their selfish interests to collect free money. Please let us be guided. Do not share your BVN to anyone who claims he has hacked a bank and promised to credit your account. It is a trap.
Do not forget to share with your family and friends as this might help a lot of people planning to send their details to fraudulent accounts.
Thanks for reading!
Please, support us by watching our "Iyokoko" Music @ 9jainfomed.com