Prayer Walk: Youths In Enugu Take Their Endsars Protests To Another Dimension (Video)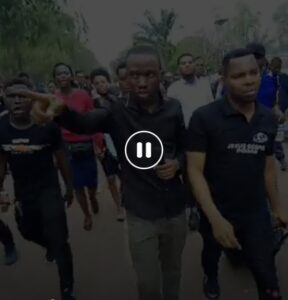 Instead of protesting like other youths in other States in Nigeria, Youths in their large numbers were in the streets of Enugu town, praying for the peace and the healing of the land. It was tagged prayer walk as they were seen holding hands in chains, walking on the roads, and making all manner of prayers.
This prayer walk in Enugu state was led by Bro. Chukwujekwu Chijioke. In a post by him on Facebook shortly after the prayer walk, he said the land of Enugu needs prayer. "We need to make a prayer. We want God to heal our land." He said.
Meanwhile, earlier today, the police mounted a roadblock on the roads leading to the government house in Enugu. Vehicles moving in that direction were seen diverting from Bisalla road through Igboeze street, Independent Layout, Enugu. No one knew the intention but people said they mounted guard in case the prayer walk turned into real protests. The prayer walk ended around midday and the youths were seen dispersing to their various destinations, satisfied.