Igbos Deserve The Third Position in The Country – Gov. Umahi. Governor David Umahi of Ebonyi State has urged the federal government to zone the position of Senate president to the South-East region. According to him, the region has earned the right to produce the next Senate president, as it supported the All Progressives Congress (APC) and President-elect Bola Tinubu during the 2023 general elections.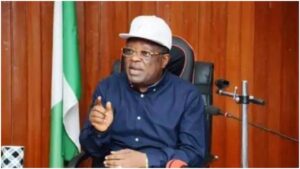 Speaking to State House correspondents after a meeting with President Muhammadu Buhari in Abuja, the governor said that zoning the Senate presidency to the South-East would help deepen Nigeria's democracy and promote equity and justice.
Governor Umahi emphasized that every region that aspires to produce the Senate president has the right to do so, but the South-East deserves the position. He also stressed the need for inclusiveness, unity, and carrying everybody along in governance.
"I think that every region clamouring for the presidency of the Senate to be zoned to it is the right of such people. If you look at the true reflection of our society, you will agree with me that the right thing to be done by our leaders without prejudice to their rights and thinking is that the South-East deserves the number three position," said Governor Umahi.
Igbos Deserve The Third Position in The Country – Gov. Umahi
He added, "This is very important, and I have always said that you can deliver somebody by the reason of the majority votes of particular regions, but you also need the cooperation of the minority people to have a holistic nation to govern."
Read More: 2023 elections: Tribunal set to begin hearing come may 8
Governor Umahi also noted that the South-East worked hard for the APC during the presidential election and made a commitment to building an equitable and fair Nigeria. He called on the federal government to recognize the contributions of the region and ensure that it is fairly represented in the government.
It is worth noting that the position of Senate president is currently held by Ahmed Lawan from the North-East region, while the Deputy Senate president is Ovie Omo-Agege from the South-South region.