Obi's Petition, Effort in Futility – Ned Nwoko Spills.
Ned Nwoko, the senator-elect for Delta North, has declared that the effort made by Obi, the former presidential candidate of the Labour Party, to stop Asiwaju Bola Tinubu's four-year term as President is futile. Nwoko explained that once Tinubu is sworn in, it would be difficult to pursue the petition filed against him at the Presidential Elections Petitions Tribunal in Abuja. Obi had filed a petition to challenge Tinubu's victory in the February 25 presidential election, alleging that the election was characterised by irregularities and asking that Tinubu's victory be annulled.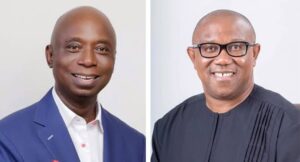 Nwoko attributed the Labour Party's defeat in the presidential election to its poor assessment of the situation and unrealistic expectations.
Obi's Petition, Effort in Futility – Ned Nwoko Spills
He stated that the opposition parties could have trounced the ruling All Progressives Congress (APC) in the election if they had teamed up, given the poor performance of the current APC regime. Nwoko reiterated that an alliance government would have been the perfect opportunity for Obi to "save" Nigeria's economy as he avowed in his campaigns.
The senator-elect opined that once Tinubu is inaugurated as President, he takes charge of everything, becoming the Commander-in-Chief of the Armed Forces, ordering them and using them as he wishes. He also has the power to appoint a new Chief Justice upon recommendation by the judicial council. Nwoko stated that it would be almost impossible to stop Tinubu from completing his four-year tenure as President, despite the petitions filed against him.
Nwoko believes that moving forward, the Peoples Democratic Party (PDP) and Labour Party have to come to terms and make the next election more strategic. The only way to save Nigeria from the current inauspicious government is through natural alliance between both parties.
Obi's Petition, Effort in Futility – Ned Nwoko Spills
The senator-elect maintained that the ruling APC would have suffered a severe defeat in the presidential poll if the opposition parties had aligned. He pinned the blame on the Labour Party and 'Obidients', stating that they were too self-absorbed to give room for logical reasoning.
Read More: Afenifere Asks FG To Halt 2023 Census
An alliance government, where opposition parties work together, could be the solution to Nigeria's problems. It would be interesting to see if the PDP and Labour Party can forge a natural alliance to challenge the APC in the next election.