FG Declares Monday Public Holiday To Mark Workers Day.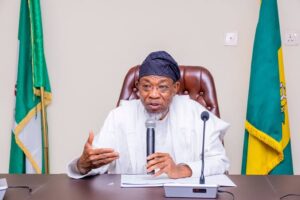 The Federal Government of Nigeria has announced the declaration of Monday, May 1, 2023, as a public holiday to celebrate Workers' Day. The Minister of Interior, Ogbeni Rauf Aregbesola, made this declaration on behalf of the government, stating that this year's celebration will be themed "Solidarity Forever: Celebrating the Collective Strength of Nigerian Workers." The Minister made reference to the International Trade Union Anthem to express deep solidarity with workers.
In a statement issued by the Permanent Secretary of the Ministry, Dr Shuaib Belgore, the Minister congratulated workers across the country for their resilience, hard work, diligence, and sacrifice. He also commended their contributions to the country's greatness and dignity, stressing that the nation will continue to celebrate workers' dedication and commitment to work as their services are vital to nation-building and African Renaissance.
FG Declares Monday Public Holiday To Mark Workers Day.
Aregbesola enjoined workers to imbibe the culture of productivity, noting that productivity is the end of work. He further explained that productivity leads to value creation, satisfactory provision of goods and services, and wealth creation. The Minister urged Nigerian workers to be productive in their work as it is the path to national and individual prosperity.
Read More: Obi's Petition, Effort in Futility – Ned Nwoko
The declaration of May 1 as a public holiday is in line with the government's recognition of Nigerian workers' importance to the country's growth and development. The holiday is also a way of acknowledging and celebrating the contributions of Nigerian workers to the nation's development. The government has called on workers nationwide to take advantage of the holiday to rest, reflect, and celebrate their achievements.