Gov. Umahi Sacks Permanent Secretary For Miscalculating Gratuities.
Governor David Umahi of Ebonyi State in Nigeria has announced the premature retirement of a Permanent Secretary in the state's civil service for failing to calculate the gratuities of civil servants. The announcement was made during the swearing-in of new Permanent Secretaries and members of the state's Public Complaints and Anti-Corruption Commission. Governor Umahi stated that the Permanent Secretary was retired because they could not calculate the gratuities of civil servants, despite their position as a top civil servant in the state.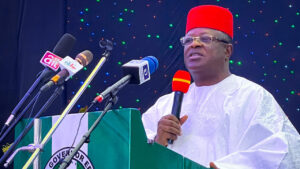 The Governor revealed that he declined a request from the Deputy Governor to reverse the decision. He encouraged the new Permanent Secretaries to read widely and maintain the standard of excellence that has been set in the state. Governor Umahi emphasized that the issue of civil servants' gratuities in Ebonyi was worrisome, despite the fact that the Permanent Secretaries in the state are among the best in the country.
Gov. Umahi Sacks Permanent Secretary For Miscalculating Gratuities.
He urged the new appointees to set examinations for themselves on performance to ensure that they continue to excel in their duties. The Governor stressed the need to regard public duties or services as personal business, which is a theory that has helped him to attain engineering proficiency. He further explained that he had diligently understudied Israelis, which had helped him in his professional development.
Read More: Labour Party Raises Alarm as Suspended Officials Move to Withdraw Court Cases Against Tinubu, APC
The announcement by the Governor has highlighted the importance of efficiency and competence in public service. It has also underscored the need for civil servants to continually upgrade their skills and knowledge to keep up with the changing times. The Governor's decision to retire the Permanent Secretary has sent a clear message that incompetence in public service will not be tolerated in Ebonyi State.